A Wedding Day is an incredibly important occasion when two people celebrate the beginning of their marriage in the presence of family and friends. Following this significant occasion, anniversary celebrations each year commemorate the continuation of each person's love for the other.
It is generally considered important that each wedding anniversary is celebrated in a memorable and meaningful way, because the anniversary is like an annual renewal of the commitment between two people. This is one time of the year when time and effort needs to be invested into finding a suitable gift, and a gift that is romantic, unique, or symbolic in some special way for the couple.
OUR MOST POPULAR ANNIVERSARY GIFT FOR HER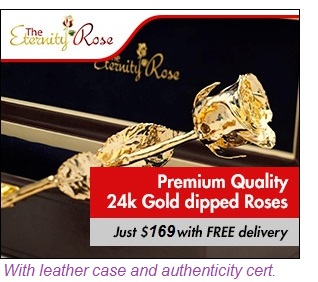 In the earlier years of a marriage, it is often simple to think of a meaningful gift when two people tend to have plenty of things on their wish lists they want to purchase someday. However, as the years go by and the assets build up, it becomes increasingly more difficult to think of an anniversary gift that will be treasured.
The tradition of giving gifts for a wedding anniversary extends back to medieval times. It is known that during the time of the Holy Roman Empire, a man would crown his wife with a silver wreath on the 25th anniversary, and a gold wreath on the 50th anniversary, however, there was little else documented in terms of themes for gift giving on other anniversaries.
To overcome the common problem people faced as to what to give one's spouse each year, an American author by the name of Emily Post, who wrote on the topic of etiquette, was the first to recommend a list of anniversary gift themes which was published in 1922 in her book titled 'Etiquette'. In that book, she listed suggestions for the first anniversary, followed by the fifth anniversary, and then every five years or so up until the 25th, and concluded with the 50th wedding anniversary. The American National Retail Jeweler Association expanded on this list in 1937 by filling in the missing years up to the 14th wedding anniversary, and the subsequent multiples of five up to the 50th year.
These gift suggestions for each year of marriage are today referred to as the 'Traditional' themes for each anniversary. This list was later reviewed and updated to incorporate a 'Modern' theme for each anniversary.
As time progressed, this list was broadened even further by other authors who suggested gift themes for every year from the first to the 25th, as well as every five years up to the 75th wedding anniversary.
Below we have put together a comprehensive and accurate table detailing the most recognized traditional and modern gift themes by anniversary year. You can click in the far right column to get a full overview for each year. After much research, we believe it to be the most detailed list of anniversary gift theme information available on the Internet today.
Following the table we provide further information that may assist you.
Anniversary Year

Traditional Gift Theme

Modern Gift Theme

Gemstone

Color

Traditional & Modern Gift Ideas

1

Paper

Clocks

Gold Jewelry (no associated stone)

Alternative: Peridot; Pearl

Gold; Yellow

2

Cotton

China

Garnet

Alternative: Rose Quartz

Red

3

Leather

Crystal/Glass

Pearl

Alternative: Crystal; Jade; Moonstone

Jade; White

4

Fruit/Flowers (US)

Linen; Silk (UK)

Appliances (electrical)

Blue Topaz

Alternative: Blue Zircon; Amethyst

Blue; Green

5

Wood

Silverware

Sapphire

Alternative: Turquoise; Pink Tourmaline; Rose Quartz

Blue; Pink; Turquoise

6

Iron (US)

Candy (UK)

Wood

Amethyst

Alternative: Garnet; Turquoise

Purple; White; Turquoise

7

Copper (US)

Wool (UK)

Brass; Desk Sets

Onyx

Alternative: Lapis Lazuli; Yellow Sapphire; Copper

Yellow; Off-White

8

Bronze; Pottery (US)

Salt (UK)

Linen; Lace

Tourmaline

Alternative: Aventurine; Tanzanite; Bronze

Bronze

9

Willow; Pottery (US)

Copper (UK)

Leather

Lapis Lazuli

Alternative: Tiger Eye; Andalusite

Terracotta

10

Aluminum (US);

Tin (US & UK)

Diamond Jewelry

Diamond

Alternative: Onyx; Crystal; Green Tourmaline

Silver; Blue

11

Steel

Fashion Jewelry; Accessories

Turquoise

Alternative: Hematite

Turquoise

12

Home Décor (US)

Linen; Silk (UK)

Pearls

Jade

Alternative: Pearl; Agate; Tsavorite; Garnet

Oyster-White

13

Lace

Textiles; Furs

Citrine

Alternative: Malachite; Moonstone; Opal

White

14 ***

Ivory or Elephant

Gold Jewelry

Opal

Alternative: Gold; Ivory; Moss Agate; Kunzite

Ivory

15

Crystal

Watches

Ruby

Alternative: Rhodolite; Blue Sapphire

Red

16

Silverware

Peridot

Alternative: Aquamarine; Golden Topaz

Silver

17

Furniture

Carnelian

Alternative: Amethyst; Citrine; Pink Tourmaline; Watch

Yellow

18

Porcelain

Cat's Eye

Alternative: Opal; Aquamarine

Blue

19

Bronze

Aquamarine

Alternative: Topaz; Golden Beryl

Bronze

20

China

Platinum

Emerald

Alternative: Platinum

Emerald-Green; White

21

Brass; Nickel

Iolite

Orange

22

Copper

Spinel

Green

23

Silver Plate

Imperial Topaz

Alternative: Sapphire

Silver

24

Opal (US)

Musical Instruments

Tanzanite

Lavender

25

Silver

Silver Jewelry (no associated stone)

Silver

26

Pictures

None

None

27

Sculptures

None

None

28

Orchids

Alternative: Amethyst; Orchid Tourmaline

Lavender

29

Furniture

None

None

30

Pearl

Diamond

Pearl

Alternative: Diamond; Jade

Green

35

Coral (US & UK);

Jade (US)

Jade

Emerald

Alternative: Coral; Jade

Coral

40

Ruby

Ruby

Red

45

Sapphire

Sapphire

Alternative: Alexandrite

Blue

50

Gold

Gold (no associated stone)

Alternative: Gold or Imperial Topaz

Gold

55

Emerald

Alexandrite

Alternative: Emerald

Emerald-Green

60

Diamond

Diamond

Diamond-White
*** The traditional theme of ivory for this anniversary is now considered unethical due to the adverse impact on elephants. Therefore a gift for the 14th anniversary which contains an elephant theme as opposed to ivory per se is more appropriate.
Traditional versus Modern Anniversary Gift ideas
Traditionally, anniversary gifts that were given or exchanged in the early years of a marriage tended to be practical household items to assist the couple in establishing their home. Luxury gifts tended to be given or exchanged in later years when the couple had already obtained the things they needed.
The traditional list features materials that were commonly available in years gone by, such as copper, wool, paper and tin, whereas the modern list features new entries such as appliances and desk sets.
From the 20th wedding anniversary onwards, traditional gift materials are not offered every year; typically only every five years or so. The modern list differs in this respect, whereby a gift material is suggested for every year, at least up until the 30th anniversary, which possibly signifies a couples' need to continue investing as much effort as possible into sustaining the commitment and romance in the later years of marriage.
Which list is better?
Most commentators on the subject will add that neither the Traditional gift list or Modern gift list is better than the other. It all boils down to the recipient's tastes and interests, and the sentiment the giver wishes to convey, as to which list for that particular year yields the more appealing option for them. It is the thought that counts, especially the intention to commemorate each anniversary as a unique anniversary in its own right.
It is important to note that there is some variation in traditional gift materials for specific years of marriage, due to the country in which the list was compiled. The table in this section specifies for those particular anniversaries whether the traditional gift material was derived from a US source or UK source, which are the main two sources used across the globe.
Anniversary Gemstone, Color and Flower gift ideas
In addition to the Traditional and Modern gift material lists, each wedding anniversary has also come to be denoted by a particular gemstone, color and flower.
In 1985, the American Gem Trade Association (AGTA) published its initial version of the Gemstone Information Manual. This manual has been adopted within the trade as the gold standard for disclosure of pearls, cultured pearls and natural gemstones. In that manual, the gemstones or precious metals that are associated with each wedding anniversary are listed for every anniversary year from the first to the 25th, and every five years thereafter up until the 60th wedding anniversary. It is interesting to note that there are some inconsistencies between this and other reputable sources as to the exact gemstone for each anniversary. This could simply reflect a difference due to the region of the world in which the list of anniversary gemstones was compiled. As such, the table in this section predominantly lists the gemstones according to the AGTA. Any variations in gemstones for a particular anniversary year as derived from other sources, are listed as alternatives for completeness, and to offer the reader a wider variety of options.
Specific flowers and colors have also come to be associated with each wedding anniversary year. There do not appear to be any consistent sources for these themes, so the table in this section lists all key flowers from a number of reputable sources that stipulate what the flower is for each anniversary. It is possible that any variation in the nominated flower for a particular year may represent the region of the world in which that particular flower came to be endorsed. In addition to the specific flower for each anniversary, the rose, considered the floral king of romance, can be substituted for most anniversaries if so desired.

In conclusion: Which gift to choose
In the table above, we provide the most comprehensive information compiled to date, for all anniversary years up to the 30th, and every five years thereafter to the 60th. The table outlines for each wedding anniversary the Traditional and Modern Gift Themes/Materials, the Gemstone, and the Color, as well as the Flower which is detailed when you click on the link in the final column for each year under the heading 'Traditional & Modern Gift Ideas'. These links in the final column also take you to an overview of the descriptions of the symbolic backgrounds for the choice of themes and other aspects of each anniversary, as well as some gift suggestions based on each of these symbolic concepts. Hence, you generally have a broad range of options to choose from in your pursuit of the perfect anniversary gift for your loved one. There is no right or wrong theme for each year, and so your anniversary present should be guided predominantly by your loved one's personal interests and preferences.

Please note that for some anniversaries, a Traditional Gift theme does not exist. For those anniversaries, the theme listed relates to the Modern concept. Also, not all anniversary years have a Gemstone, Color and/or Flower associated with it, and hence, the information provided for those years is limited. However, gift ideas are indeed provided for every anniversary year listed in this table.

In addition to this table, if you are looking further for a list of romantic and unique things to do on your anniversary, irrespective of the year, we have compiled a list of our top 35 suggestions which you can find here.