An 18th wedding anniversary is an important celebration that has long been linked with traditional themes in the USA. Below, we have provided a list of some of the most popular gift ideas for you to use as inspiration. Mix and match from the choice of items, themes and colors, and find a present that your loved one will really appreciate.
Modern Gift Theme: Porcelain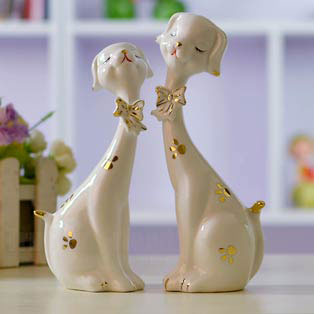 Porcelain is very fine, delicate, elegant and exquisite. These properties in combination represent the uniqueness of a marriage that has survived 18 years. The couple has succeeded in taking care of one another to ensure that the relationship doesn't break down, in the same way that one must handle porcelain with care to make sure that it doesn't break or fracture.
Gemstone: Cat's Eye
Alternative Gemstone: Opal; Aquamarine
Color: Blue
Flower: None
Popular Modern and Other Gift Ideas
• Porcelain home wares (eg, vase, mugs, serving platter, jug/pitcher, candle holder)
• Porcelain sculpture or figurine
• Cat's eye jewelry (eg, necklace, pendant, ring, bracelet)
• Opal or aquamarine jewelry as alternate gemstones associated with the 18th wedding anniversary
Below are the forward 5 years of anniversary gift theme ideas for your consideration:
19th wedding anniversary gift ideas | 20th wedding anniversary gift ideas | 21st wedding anniversary gift ideas |
22nd wedding anniversary gift ideas | 23rd wedding anniversary gift ideas |