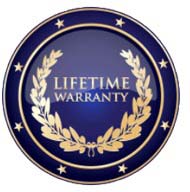 At The Eternity Rose, we understand that warranty is more than just a list of conditions posted up on a website. It must be a commitment to support the customer in the event that a product is faulty in any way.
Our 90-day Satisfaction Guarantee means you can return a product for replacement or full refund within 90 days from the invoice date.
Our Lifetime Product Failure Warranty offers further peace of mind which guarantees that if the item ever fails during normal display use, it will be replaced. We understand that an important gift item carefully chosen for a woman as a birthday gift, anniversary gift, Valentine's Day gift, Christmas present or graduation gift, must be backed by a solid warranty.
All roses are covered by a lifetime warranty. Gold-dipped golf balls and poker cards are covered by a five-year warranty.
Please note, the following occurrences are not covered under warranty:
1) Standard tarnishing of a gold or precious-metal product.
2) The item has been noticeably dropped, and/or bent out of shape leading to breakage.
3) The item has been corroded as a result of coming into contact with an acidic chemical.
Should you need to claim a warranty return against your gift purchase for any reason, your warranty claim will be treated with urgency and as a company priority. Generally, an Eternity Rose, gold-plated 'display' golf ball or poker cards will last for a lifetime under internal display conditions. As with all gold items, some tarnishing will naturally occur with time. 24 karat gold tarnishes very slowly and may not need polishing for 10 years or so. The roses are similar in structural strength to a wine glass and are not particularly fragile. They can be polished with around the same rigor as you would shine a wine glass.
Playable golf balls, tees and poker cards will show wear and tear if they are actively used. This is not covered under warranty.
If you need to return an item you can find our return details here.
For more detailed information, please refer to our Terms & Conditions.