** Please note: Due to the high volume of enquiries after Valentine's Day, it may take us up to 36hrs to get back to you **
** Rest assured we will attend to your enquiry as soon as possible **
FOR THE MOST PROMPT ATTENTION PLEASE SEND YOUR QUERIES VIA EMAIL TO:
info@eternityrose.com

The Roses
Our Flowers are Natural Roses
We pick them at the peak of their beauty, and then dip them in pure 24k gold, platinum or silver. We also glaze and gold-trim roses and rose jewelry. All Eternity Rose products will literally last an eternity.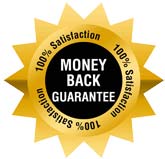 Our Guarantee
Lifetime Warranty and Money-Back Satisfaction Guarantee
All Eternity Rose products are developed to the highest quality standards and exacting specifications. This level of workmanship allows us to offer unrivalled guarantees.

Our Delivery
FREE

Priority Shipping

Orders are generally processed within one business day of placement and then shipped. We understand a gift has to arrive on time. For this reason, we use FedEx express shipping which can reach most destinations in the US within 1-3 days after dispatch, and includes Saturday deliveries. Full tracking is provided so you know exactly where your order is up to. West coast regions may take up to 5 days.