Ultimate Wedding Gift Guide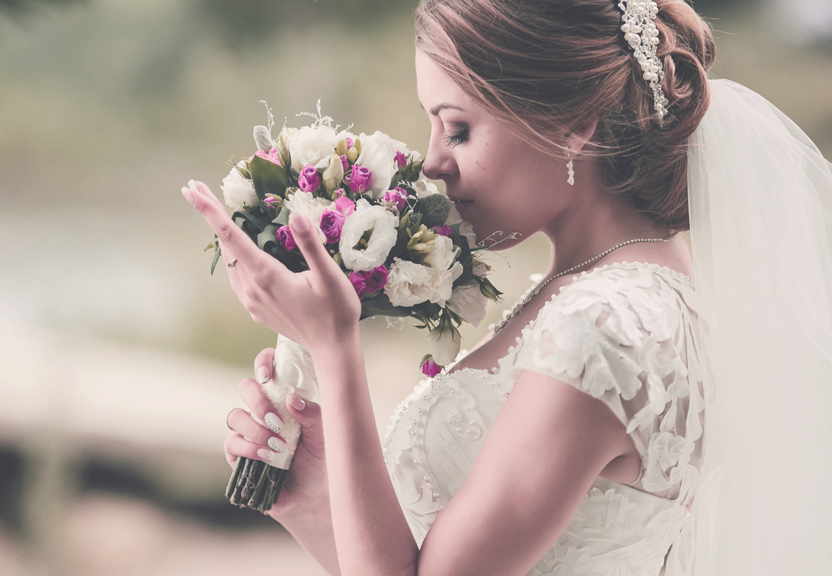 Birds chirp, bells ring, friends and family gather and cheer – wedding season is here!
Given the importance of this celebration, the anticipation and planning leading up to the big day can be simultaneously exciting and overwhelming for everyone involved. Though we all know the amount of stress the bride and groom experience during preparations, guests, on the other hand, have to deal with the stress of choosing wedding gifts. The pressure to show generosity and effort can be ultra-overwhelming!
If you are here today, it's probably because you need that extra bit of help finding that perfect wedding gift. Luckily, we've got you covered! We've created this super useful wedding gift guide filled with unique wedding gift ideas so you can feel confident and focus instead on having the best time ever!
The Perfect Wedding Gift - Things to Consider
More often than not, soon-to-weds have a gift registry from which you are encouraged to make your purchases. In some cases, however, couples do not provide a registry list to guide guests. This means guests are left with an embarrassment of choices. If this situation sounds familiar to you, don't worry. Get in the zone by asking yourself these questions: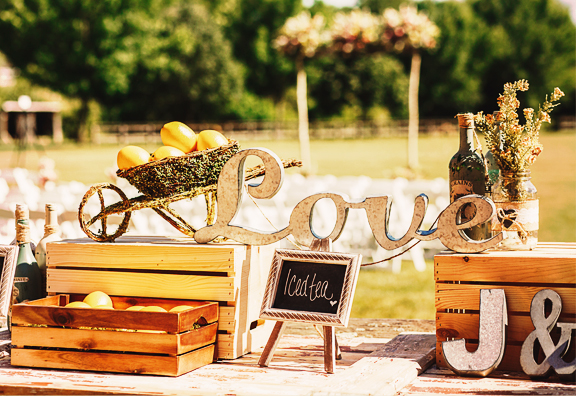 1. What is the style of the wedding?
Do you suspect the event will be an extravagant one? Are your friends planning a modest and fun reception? Do the invitation cards mention a theme? A lot can be said about a couple and their expectations just by how they choose to celebrate their big day.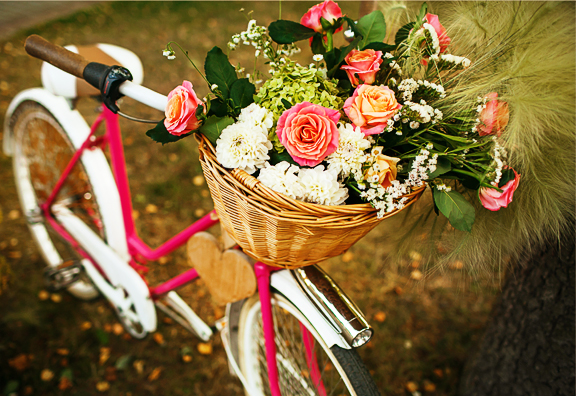 2. What are their hobbies or passions?
Think about any hobbies they might have. By getting them something related to their interests, you'll score points for "knowing them so well"! Avoid getting them something they already have by going for a gift they can experience together, like passes to an event or location.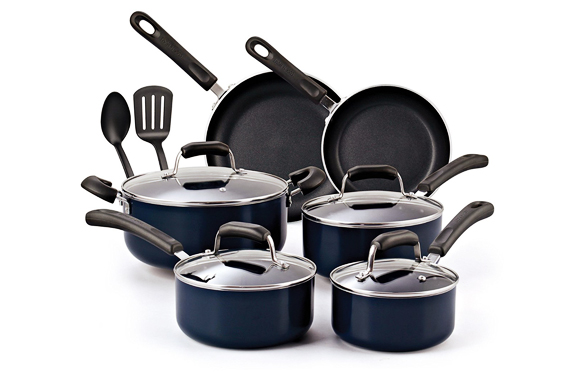 3. Do they need anything?
Are they just starting out in life, or are they already settled? A younger couple with modest means might not have all the house basics yet, whereas an older couple likely has spares.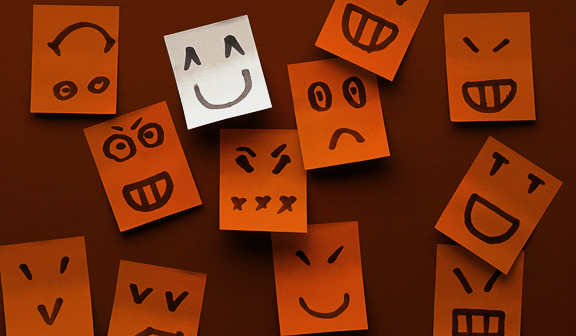 4. What are their personalities like?
If you had to choose three words to describe your friends, what would they be?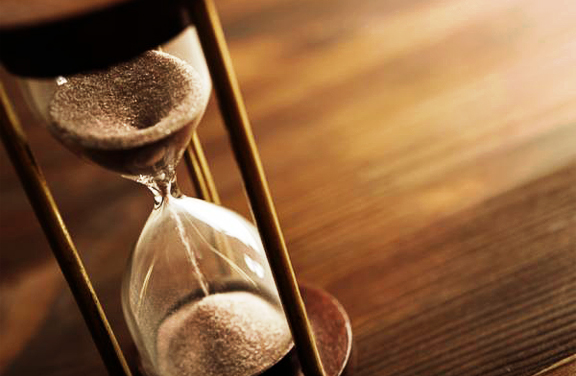 5. How close are you?
Are you family? Best friends? Friends? Acquaintances? Someone's +1? The kind of relationship you have with the couple may help you determine how much time, effort, and money you should be investing for this occasion.
Wedding Gift Ideas
Need some specific ideas? We've broken things up into categories to make it easier for you to find the perfect wedding gift!

Useful Wedding Gifts
Gifts that gain value over time
Crystal glasses
A BBQ
A wine fridge
A flatware or silverware set
Tools
Top-quality appliances like kitchen mixers, ice cream makers, blenders, crockpots, pressure cookers, etc.
Luxurious woven throws and shams
A beautiful cake display stand
Three-tier silver platters
A newlyweds' cookbook
Coffee machine
Linens (100% cotton, thread count of 600 or above is best)
Towels
A modern clock
Copper pots and pans
Cast-iron pots and pans
Cast-iron Dutch ovens
A knife set
A quilt set
Placemats

Experiences
Wedding gifts come in many shapes and sizes! If you want to be original, rather than giving your friends a physical object or gadget, why not get them something they can experience together and build new memories through? If your friends like to travel, enjoy outdoor activities, or like music and entertainment, consider getting them tickets or passes to an event or destination they will adore. Examples of experience gifts include spa day passes, concert tickets, specialty conference passes, tickets to derbies or races, park passes, a weekend booking at a nice B&B, a city tour, tickets to a destination, or tickets to a winery! There are so many possibilities.

Subscriptions
A subscription service, or "subscription box," is another fantastic wedding gift option. It's a gift that keeps on giving! Nowadays, there is a subscription box for just about everything imaginable. The great thing about these subscriptions is that you can choose the delivery frequency (weekly, bi-weekly, or monthly). Some of our favorite subscription services and boxes include...
Fresh-cut flowers
Texas BBQ box
Maid services
Coffee and coffee accessories box
Baby goods (great for pregnant brides)
Wine club tasting sample box
Foodie box
Candle subscription box
Book-of-the-month subscription

Stylish Décor
Help them make their new home an elegant, cozy haven! Luxurious throw blankets, cushions, decorative shams, and sophisticated photo frames are always appreciated. Give them something they can admire forever, like our
Platinum-Dipped Rose and Silver Vase Set
, perfect for any room in their home. Sculptural bookends made of stone or brass would also look great in their new living room area or study.

Gadgets
1. A Digital Assistant
Digital assistants (aka smart home systems/pods) are hot gadget items! Controlled by voice command, they make purchases, turn lights on and off, print documents, make phone calls, find music playlists, and answer questions based on the information they find online. With a new busy life ahead, these lovebirds will be pleasantly surprised with such a gadget!
2. 1080p HDMI Pocket Projector
For movie-junky duos on the go, the ultimate gift would be a high-definition portable pocket projector. This little machine plugs directly into your phone/laptop/tablet and lets you stream movies (or project whatever is on your screen) anywhere you want! Whether camping, traveling, or just in the basement, the newlyweds will be able to bring the cinema with them everywhere they go!
3. A Video Security Cam
Don't let crime get in the way of a beautiful new chapter as a married couple! Get the bride and groom a security system for their loving home. You can get systems with doorbell cameras as well as notifications and live streaming on your mobile phone. Better safe than sorry!
4. A Portable Generator
Unfortunately, America has been hit with many natural disasters in the past few years due to climate change. A gift that is practical, thoughtful, and unique is a portable generator. Imagine being out of power for days. For their wedding, give them peace of mind.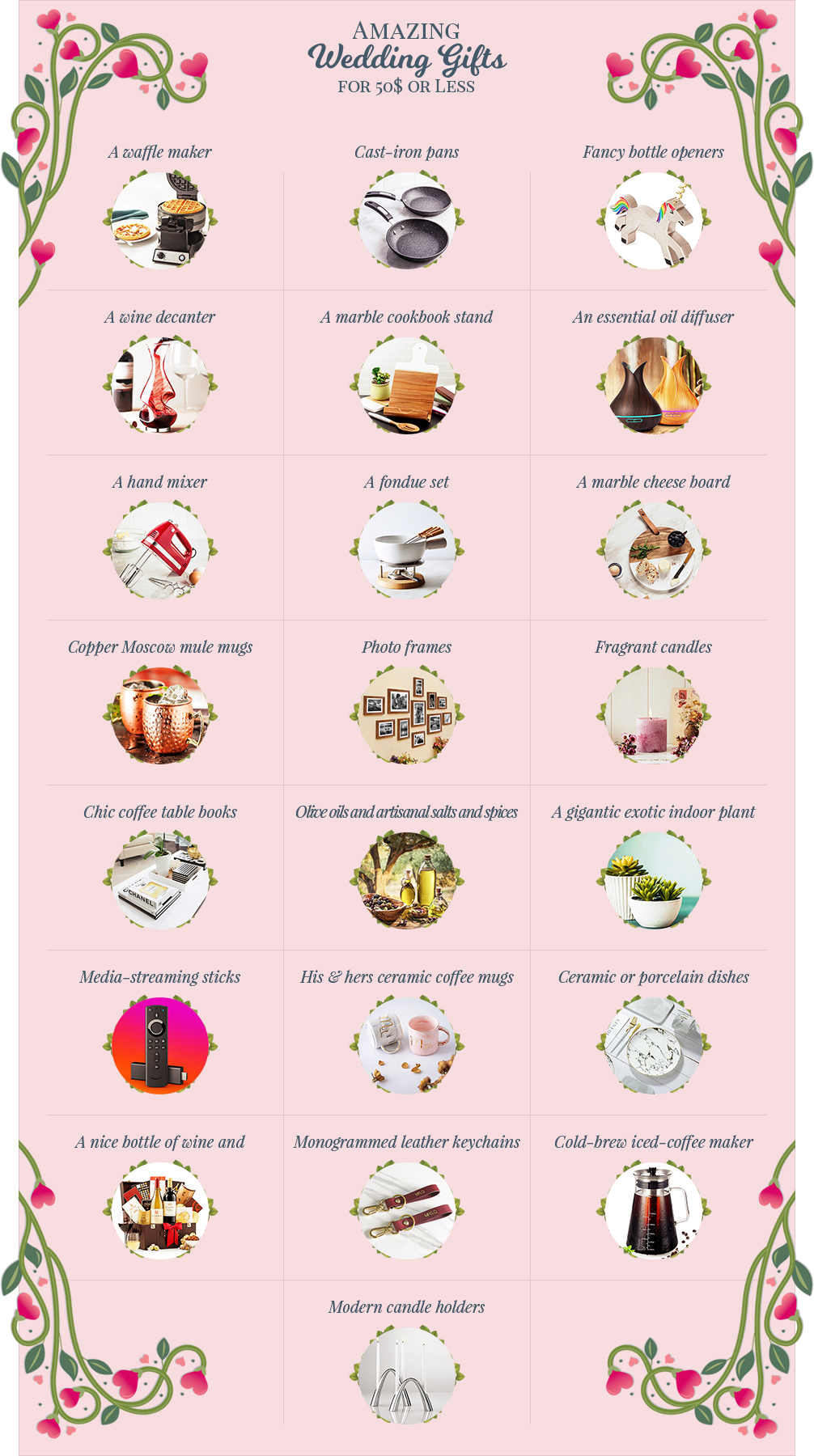 Wedding Gift Ideas for the Bride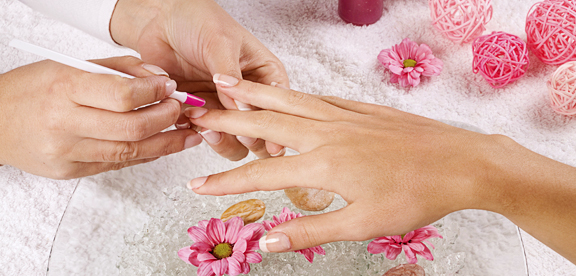 A Pre-Honeymoon Mani/Pedi
After a full day (or maybe even week) of wedding stuff, chances are the gorgeous bride's manicure won't be so fresh anymore. She'll want to have her nails done before her romantic vacation. Book her an appointment ahead of time—she'll thank you for it!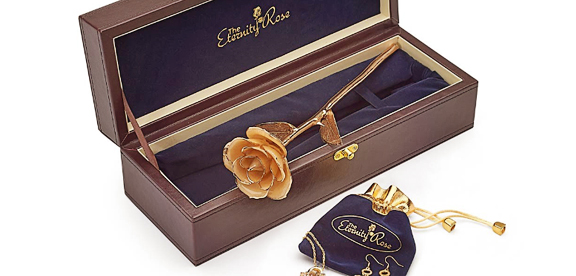 Delicate Jewelry
Today is the bride's special day. Give her the gift of eternal elegance. Jewelry is a classic wedding gift, especially from close friends and family. Get her something delicate and highly unique, like a
jewelry set
made of gold-trimmed natural white roses—a symbol of purity, beauty, and eternal love. She'll wear it with pride for many years to come.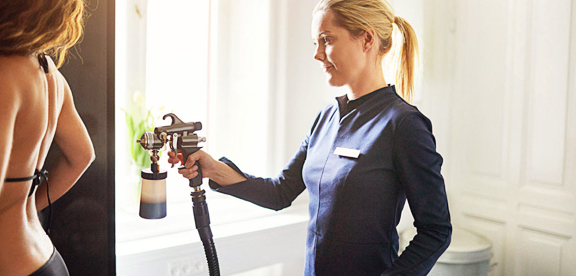 A Pre-Honeymoon Spray-Tan Session
Speaking of honeymoons, what better way to look like a summer goddess than to have a pre-honeymoon spray-tan session? Bet no one else thought of that! You can tell your bestie to skip those dangerous UV rays and still feel confident in her bikini thanks to her salon-bronzed beach body!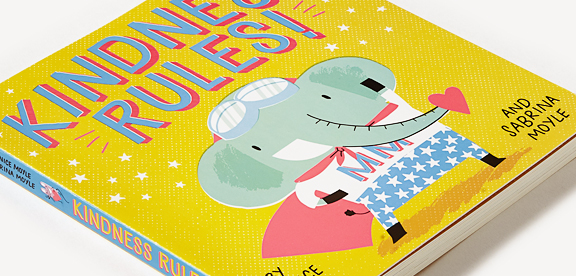 Entertainment and Etiquette Book
Now that the Miss has become a Missus, there's no more appropriate time to get her a book on how to entertain guests like an etiquette expert. Perfect for the bride who likes to (or has to!) entertain.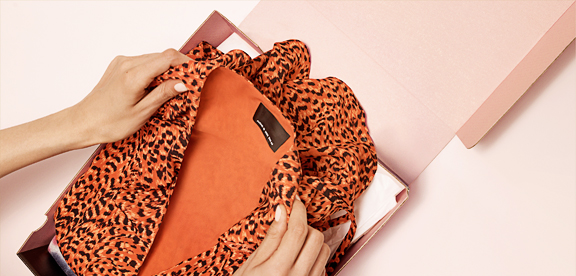 Fashion Box Subscription
Most weddings typically "hurt" the wallet—at least a little bit. After the festivities are over and married life begins, people tend to be more careful with their spending. Give the bride a break by getting her a monthly fashion box subscription. Everything from tops, pants, skirts, and accessories are available in all styles imaginable. Sweet!
Wedding Gifts For The Groom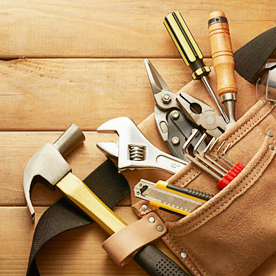 Tools
Most married American men will tell you that they only remember one of their wedding presents—tools! It might sound funny to some, but tools are actually super thoughtful gifts, especially for people who are just starting out in life. They are the kind of thing that's essential for homeowners and that people don't really think about buying until it's too late.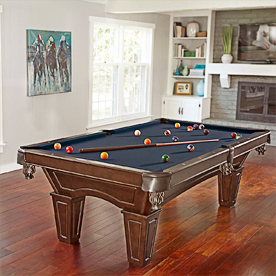 Pool Table
Oh yeah! This is a big one. If he has space for it in his home, he won't believe his eyes!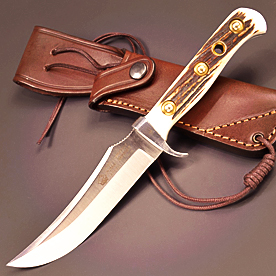 Handmade Knife
A Forged in Fire groom will appreciate an artisanal knife. If he is serious about BBQ night, he needs a serious blade. Get in touch with a blacksmith or find a local artisanal shop that sells knives that have been hand-forged in fire. Besides it just being a gorgeous object, there is nothing more pleasant than having a good knife when cooking.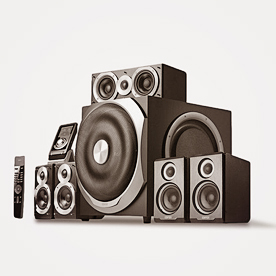 A Turn-Table or Sound System
Nothing beats the sound of old vinyl! For the music amateur, a modernized turntable or a new sound system are super cool gifts, too! You'll instantly become the king or queen of wedding gift surprises.
Wedding Gift Etiquette
Confused about gift-giving etiquette? Here are our answers to some of the most common questions.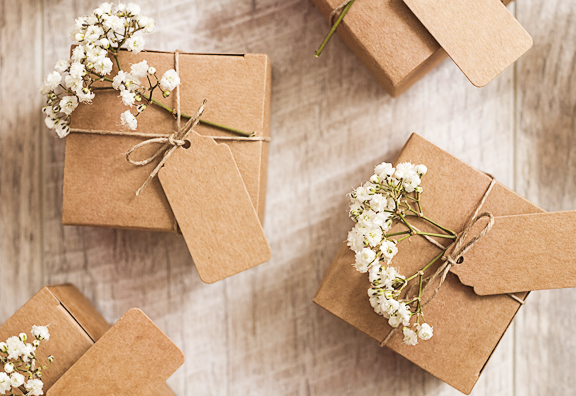 1. Is it OK to give a group wedding gift?
Group wedding gifts are appropriate especially if it is something neither the couple nor any of their guests could afford on their own. The same would apply if getting a group gift would equal a gift of better quality. It is always better to offer quality than quantity.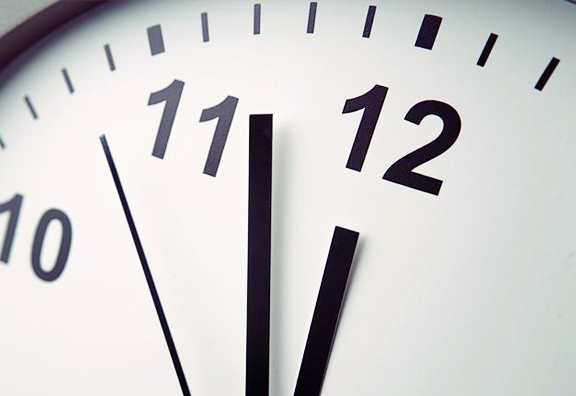 2. How long do I have after the wedding to get the couple a wedding gift?
Location and budget permitting, wedding gifts should be purchased and sent within the first few weeks after the wedding. Ideally, the couple should not receive your gift more than a month after their celebration.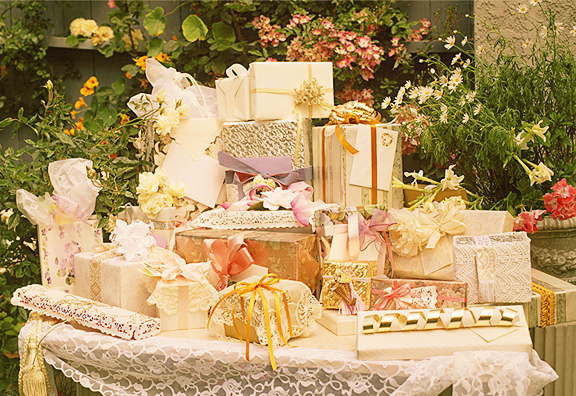 3. Can I bring the gift to the ceremony?
It depends on where the ceremony takes place. For example, if the ceremony and reception are in two separate locations, it would be best to save the gifts for the reception after the ceremony. In other cases, such as backyard garden weddings, there are typically designated tables to drop off any gifts before the festivities.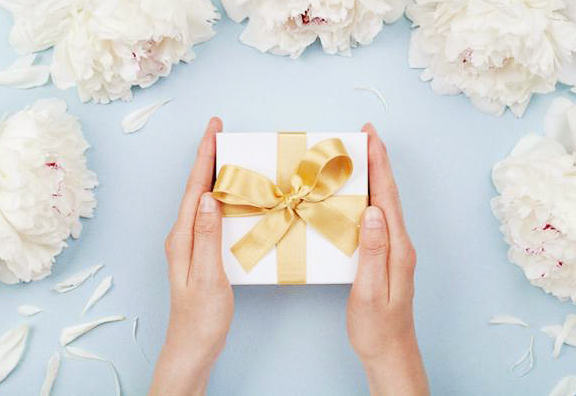 4. Should I buy a gift even if I can't attend the wedding?
The short answer is yes, if you are close to the bride, the groom, or both. Otherwise, a nice card or a bouquet of flowers mailed to their address is also an option.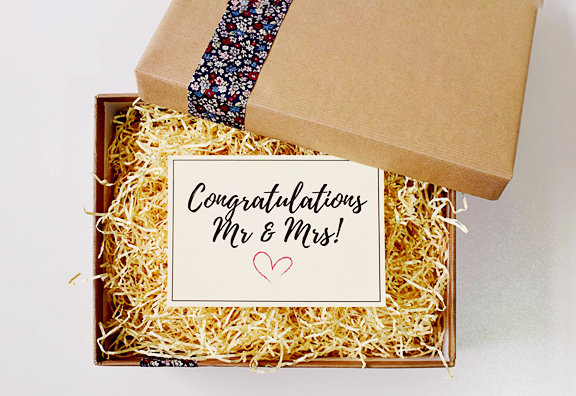 5. When should I send the wedding gift?
As soon as you can. Ideally, you should do so within a week of the wedding.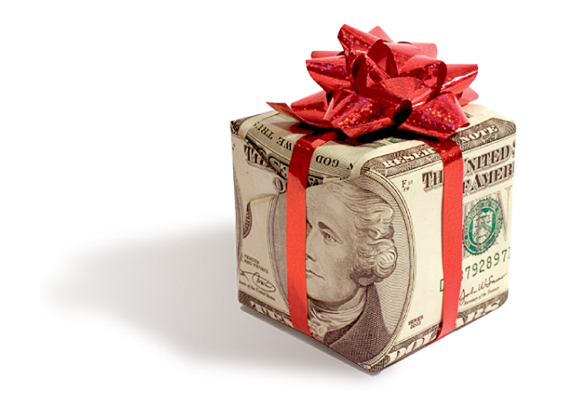 6. How much should I spend on a wedding gift?
On average, close friends and close relatives spend $150+ on weddings gifts. Friends and other relatives fall in the $100–$125 range. Co-workers, distant family friends, and distant relatives typically spend anywhere between $50–$100. These, of course, are just suggestions. Be as generous as your budget lets you. Generosity is not about numbers—it is about giving what you can.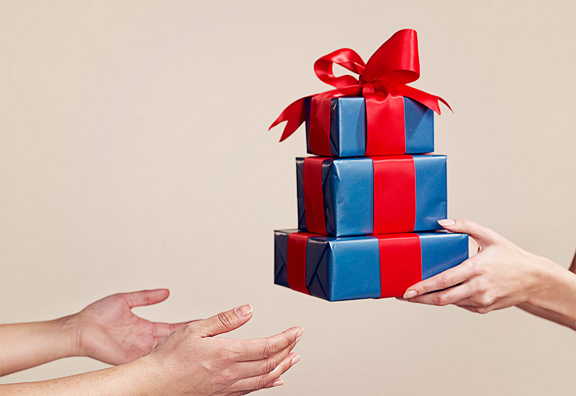 7. Does my wedding date have to bring a gift too?
There are no rules that "+1s" have to bring wedding gifts, especially if they do not know the bride and groom. This is especially true if your date is just a friend who is there to keep you company. However, if your date really wants to contribute, you could decide on a gift from both of you, if your date is someone you are serious about. Your date could also write a simple card to express well wishes to the newlyweds.
8. Should I give a bigger wedding gift if I have a plus one?
Again, assess the situation. Is your plus one just a friend? Does he or she know the couple? The best thing to do is to focus on what you should offer without imposing anything on your date.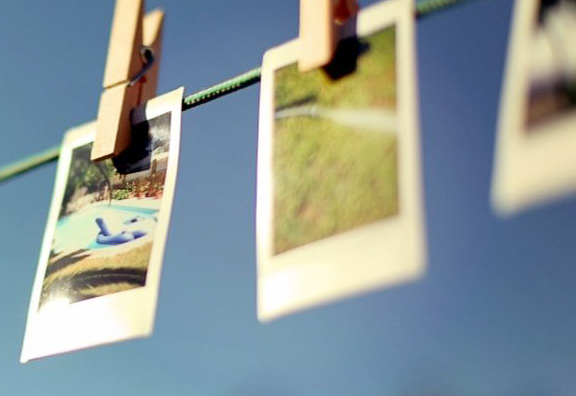 9. If I am traveling to a wedding, will my travel expenses lower the gift expectations?
If it really comes down to finances, attending your friends' wedding is more important than giving a gift. If you are well off and can afford to travel as well as give a nice gift, do so—don't be cheap. However, if traveling is something you must budget for, spend within your means. Memories are the most valuable gifts, after all.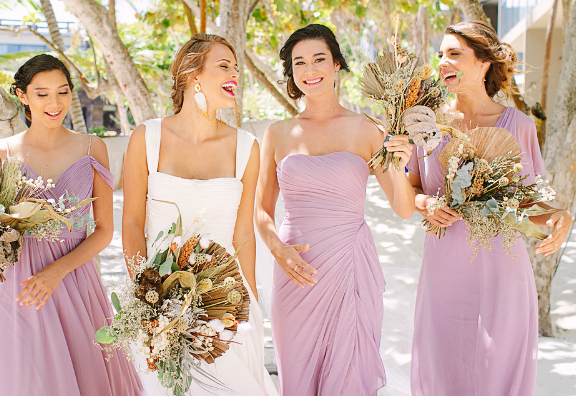 10. If I'm a member of the wedding party, do I still need to buy a gift?
In theory, yes. Again, look at your budget and spend within your means.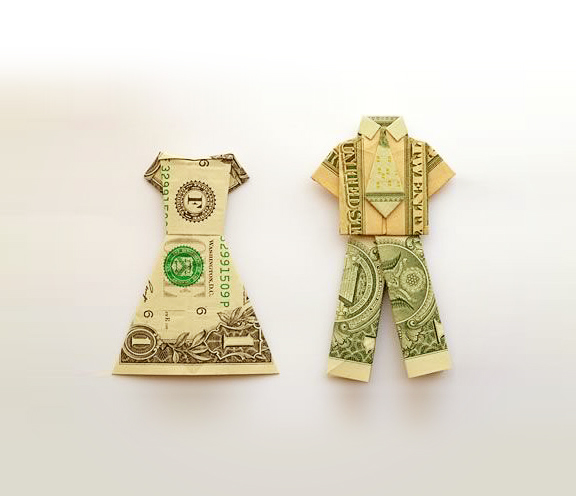 11. What is the protocol for giving cash as a wedding gift?
Nowadays, many Americans just want money for their wedding. Millennials in particular ask for money instead of gifts so they can enjoy a better honeymoon or pay off loans and expenses related to their new homes. Often, soon-to-weds announce a registry-style money transfer account in which guests can deposit money electronically weeks before the event. Otherwise, cash placed in a lovely card and envelope is the traditional way of gifting money.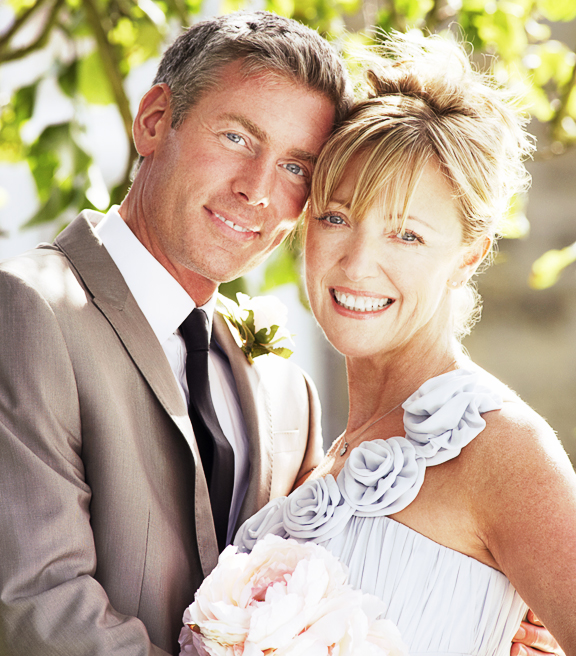 12. What if it's a second or third marriage?
A marriage, no matter the number, is a celebration of love and union. It should be treated the same way as a first marriage. Just because it is a second or third marriage doesn't mean it is less important. We never know what someone had to experience before getting to this happier point in his or her life. One thing to consider with second and subsequent marriages, however, is that typically they are between older couples. This means they might be less in need of the basic items that a young couple would need. Remember, however, that every case is different—some people lose everything after a divorce and have to start over later in life. The best thing to do is to follow the registry list and treat this union as the ultimate celebration of two people in love.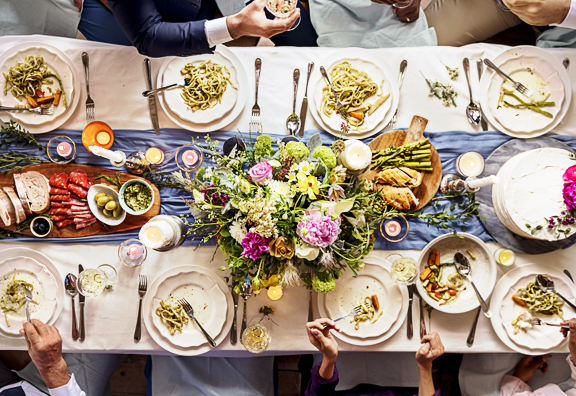 13. Am I supposed to buy a gift that costs as much as what the hosts spend on each person at the wedding?
According to Thomas P. Farley, etiquette expert, "a wedding is not a fundraiser, and no guest should ever feel obligated to give at a certain level, including the cost of a plate at the reception."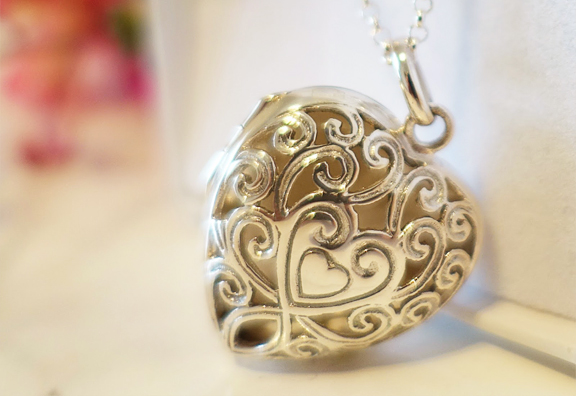 14. Can I give something I already own?
It depends. An heirloom or collectible, yes. A used toaster, not so much.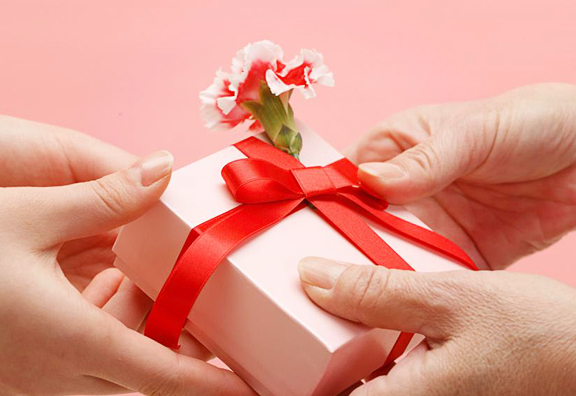 15. What if I learn that my gift was returned or exchanged?
It happens! At least you tried your best. After all, this is about the bride and groom and what they need. If, for some reason, you see a refund in your account, perhaps calling the store to ask what happened is a good idea before contacting the newlyweds.
Presents for Many Occasions
What is the etiquette for buying gifts for the engagement, shower, and wedding? Do you bring a gift for each one, and how much of your budget should each one be? First, the best thing to do is to determine the total amount of money you would like to spend on gifts. Then, divide that amount as such: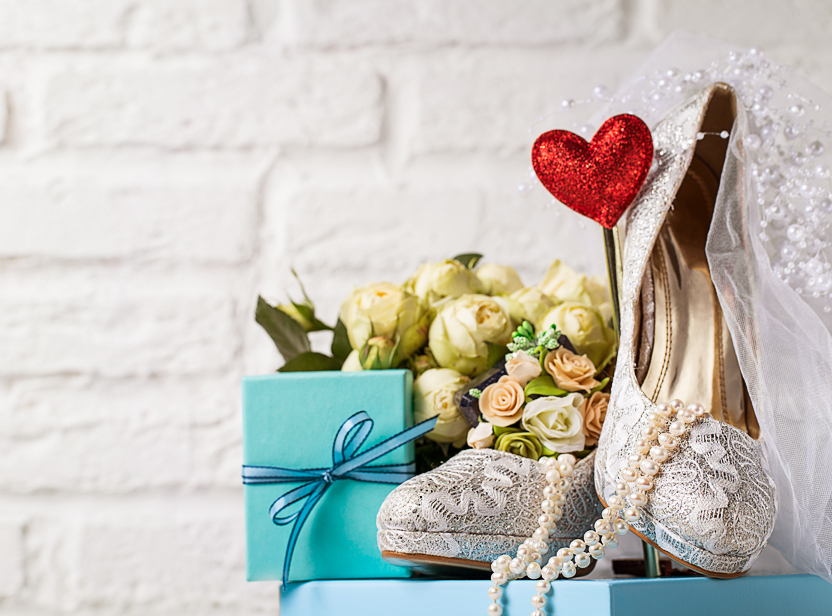 Engagement gift: 20%
Shower gift: 20%
Wedding gift: 60%
For example, if your total is $100, you would spend $20 on the engagement gift, $20 on the shower gift, and $60 on the main wedding gift.
Or
Engagement gift OR shower gift: 40%
Wedding gift: 60%
Again, if your total was $100, you'd spend $40 and $60, respectively. Of course, there are no rules on this, but the focus should be on the wedding gift.
Engagement, Bachelor, and Bachelorette Party Gifts
Speaking of smaller gifts, here are some gift ideas for engagement parties and bachelor or bachelorette parties!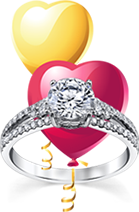 Engagement Parties
Think of engagement party gifts like small yet thoughtful gifts you would bring to a house-warming party. Engagement party gifts usually revolve around three things:
1. Enhancing the ambiance of the evening
2. Contributing to the planning of the wedding
3. Memories of friendship and/or when you first met the lovely couple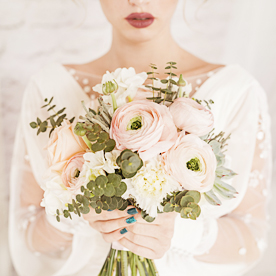 Gifts that enhance the ambiance of the evening include things like...
Floral bouquet
Boxes of chocolat
Desser
Wine, champagne, and other alcoholic beverage
Cigar
Cheese and cracker basket
Candle
Live entertainment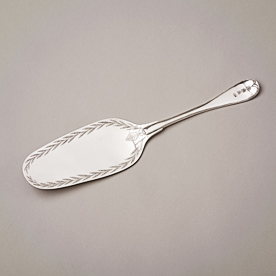 Gifts that help with organizing the wedding include things like...
A weekly wedding planner
A gift card to apply toward wedding expenses such as wedding invitation cards or flower shops
A taste test at a local restaurant or bakery
A wedding recipe book to browse through (for those who will bake their own goods!)
A silver cake slicer for the big day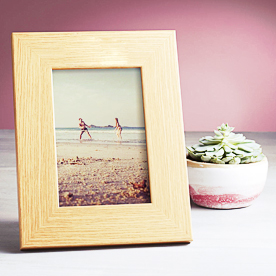 Gifts that bring back cherished memories include things like...
Inside joke items (keep it classy and kind, though!)
A photo you took of the couple back in the day, presented in a beautiful photo frame
A "round 2" of something you all experienced together when the couple started dating (a concert, a night out at a restaurant, a special event you attended, a special song that was played, etc.)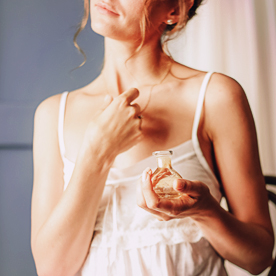 A New Signature Scent
A fresh new scent for a fresh new chapter in life! Give her the gift of a delightful new fragrance so she can forever associate the scent with the happiest day of her life!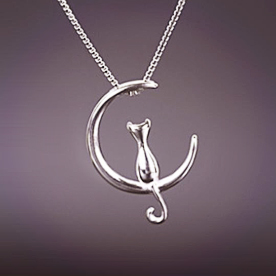 Cute Jewelry
Get her something she can wear and feel ultra-pretty with during your girls' trip or girls' night out! Make the bride-to-be stand out with
White Glazed Rose Earrings in 24K Gold
. She'll glow!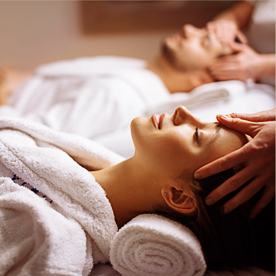 Spa or Hair Salon Passes
Surprise the bride with day passes for the spa or for a blow-dry session at a salon. Make this bridal shower all about getting pampered—it's her turn to relax and feel amazing!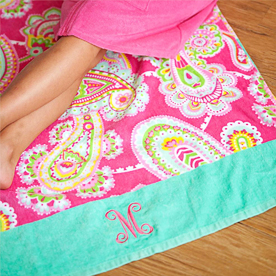 Personalized Beach Towel
Going on a girls' vacation? Get her a chic, personalized, bride-to-be towel for the beach!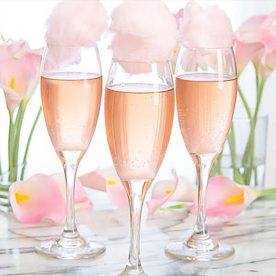 Champagne and Candy
Contribute to the "sponsorship" of the bachelorette party by getting mini bottles of champagne and cute candy to enjoy throughout the evening. You'll be all set for "Slumber Party: Bachelorette Edition."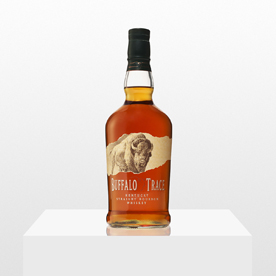 A Good Bottle
What's a bachelor party without something good to toast with? Whether you plan to go all out or have a quieter night in, bring a nice bottle of bourbon, rum, whiskey, or whatever his favorite drink is. You've got lots to toast to, so you ought to do it with the good stuff!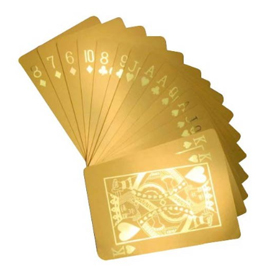 Gold-Plated Poker Cards
Bachelor party poker night is coming, and this will be one for the high rollers! Make that deck match the style of the occasion by getting the groom a deck of luxury
gold-plated playing cards
. Be warned, they might make you all want to bet higher!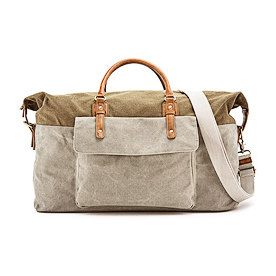 Personalized Leather or Canvas Weekend Bag
Is the plan to head somewhere with the boys? Get your buddy a really nice leather or canvas travel bag or case. A smaller alternative would be to get him a personalized leather nametag for his luggage. Awesome.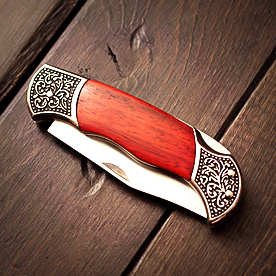 Personalized Pocketknife
If your friend is the outdoorsy type, he might enjoy a new pocketknife to mark the occasion. Get him one with his nickname, the date of the bachelor party, or his future wedding date engraved on it. That'll be one for his cherished collection.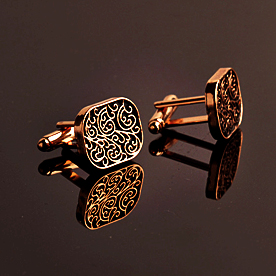 Cufflinks
When's a good time to wear cufflinks? At a wedding! If your best friend is getting married, why not contribute to his outfit by getting him cufflinks as a symbol of your friendship and support of his new life? You can be sure they'll quickly become his new lucky cufflinks for important meetings in the future.
The Registry - FAQs
1. Is it mandatory to buy from the wedding registry?
The registry list should be respected, especially if your friends are young and in need of extra help with getting their lives started. Usually, the bride and groom create a list that contains items ranging anywhere between $50-$200+, keeping everyone in mind. Try to respect the list as well as other guests by getting something within your budget allowance.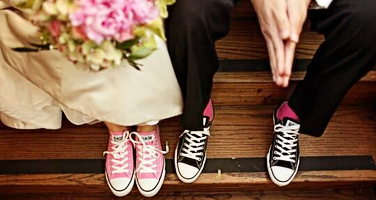 2. Their registry is full of really expensive items―way more than I want to spend. What are my options?
Don't overspend. A wedding is a celebration of love, not a fundraiser. Think of something thoughtful you could give your friends for their wedding. Alternatively, if you have a special talent, such as photography skills, photo- or video-editing skills, or musical talent, you could offer your services!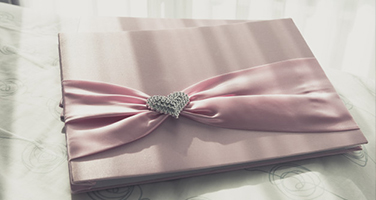 3. How do I find the wedding registry?
Registry lists can be made by hand at a specific store or posted online for guests to browse. Normally, the couple will send out a mass email or text or cards in the mail to inform their guests on where to find their registry list(s). If they have not done so, you could always inquire to them or a close relative to get a better idea of where (and when) you should be looking.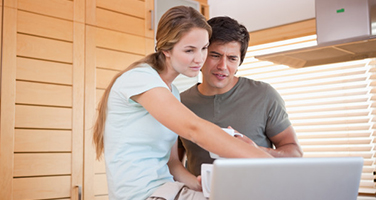 4. Is there any way to make a registry gift more meaningful?
We know how you feel: Buying from a registry can feel a bit boring. Thankfully, you have a few options. You could always opt for a smaller item they've asked for and get a secondary surprise gift. You could also add complementary items to the registry gift. For example, if they've asked for a wine fridge, why not get them a wine subscription or their first-ever special bottle of wine to go inside?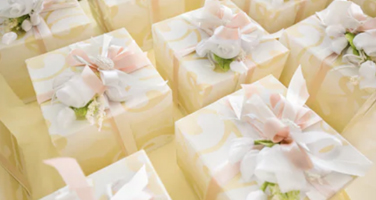 5. They're registered for an item that I found on sale somewhere else. Is it OK to send them that one?
As tempting as it might be to purchase a cheaper item elsewhere, we suggest you purchase directly from the registry list. By doing so, you avoid the possibility of them receiving the same gift twice. That wouldn't be fair to you, the other guests, or the newlyweds.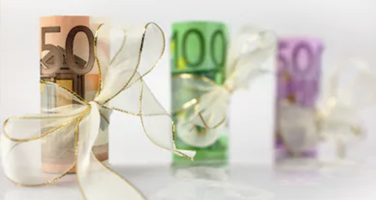 6. The couple registered a year before their wedding. Is it okay to buy their birthday and Christmas gifts from their registry?
This is a tricky question. The answer is case-specific. Use your best judgment and assess the situation. There are two ways of looking at this:
1) Yes, because it consists of things they want and/or need. Look at the number of guests and the number of gifts listed in their registry—if the number of gifts surpasses the number of guests, go ahead and buy one or two! Just make sure you purchase directly from the list to avoid double purchases closer to the wedding date.
2) No, because they are not even married yet! A lot can happen in a year (God forbid!), and wedding presents are usually things that represent unity or are meant to be shared between the bride and groom. Furthermore, if the registry list is on the shorter side, they might run out of wedding gifts by the time they reach the wedding date.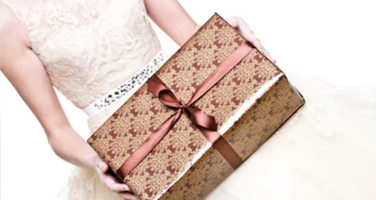 7. The couple invited 200 people but only registered for half as many gifts. What should I do?
In this case, think about whether or not you know of anything else they would appreciate that is not on the list. If an obvious gift idea comes to mind, leave the registry list for the people who really have no idea what to buy. Plus, you'll get bonus points for being original. If you wish to use the registry, don't worry about double purchases—those things are controlled by the website or store from which the list is available.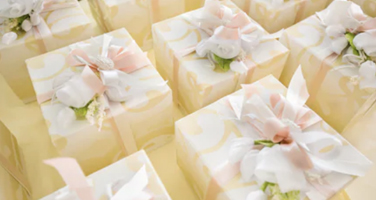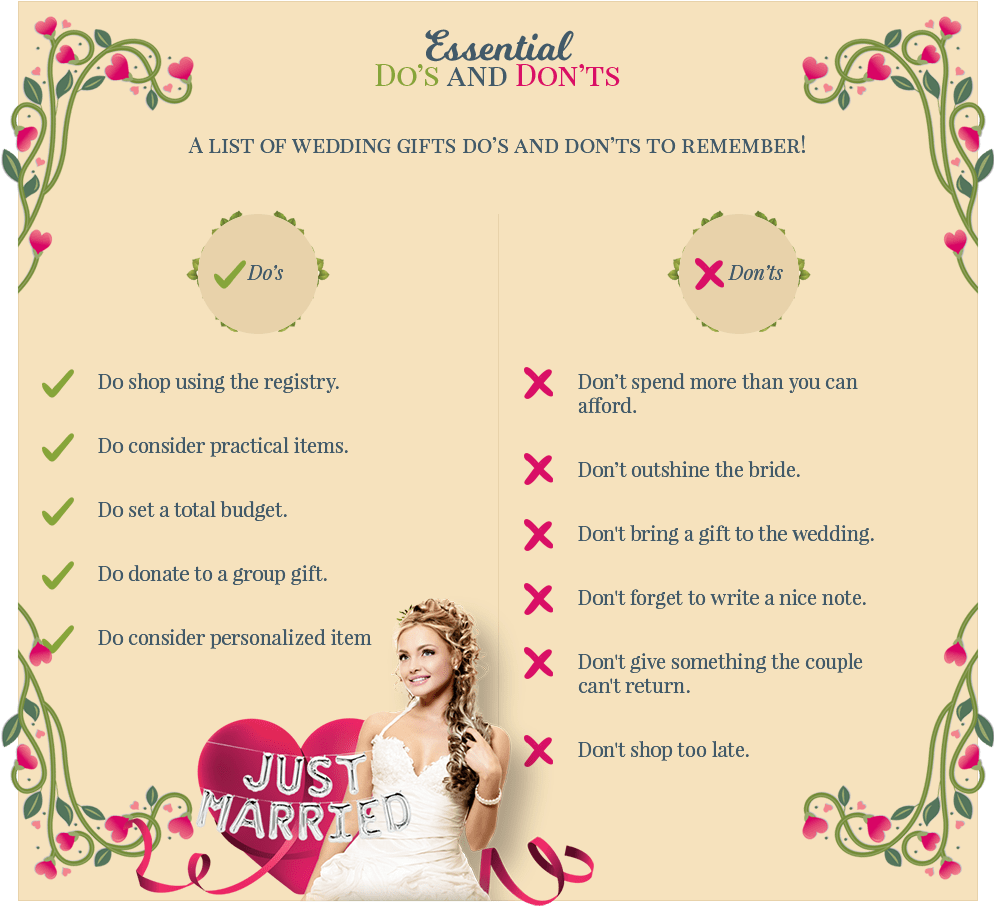 Interesting Wedding Traditions from Around the World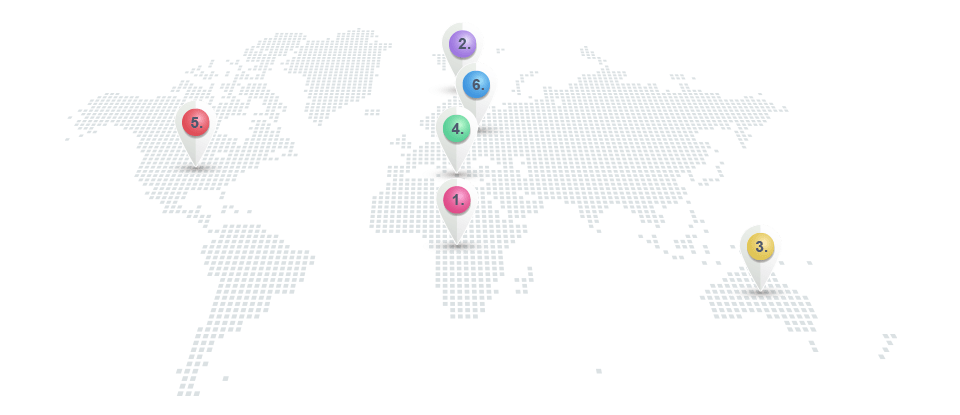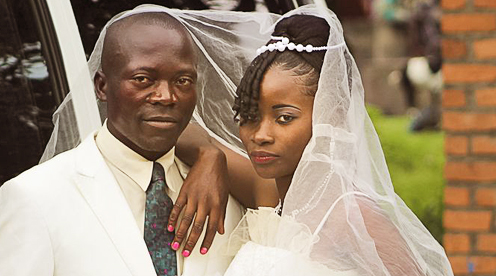 1. No Smiling – Congo
In the Republic of Congo, a wedding is considered a very serious affair. The bride and groom are not to be seen smiling during the ceremony, not even for photos!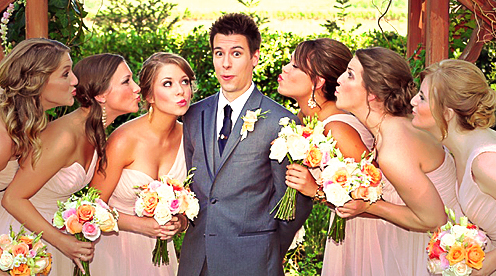 2. The Kissing Tradition – Sweden
The Swedes have a funny tradition that if the bride leaves the room, women are allowed to kiss her groom. The same applies to the bride if her groom decides to leave the room. Better not have to go to the washroom!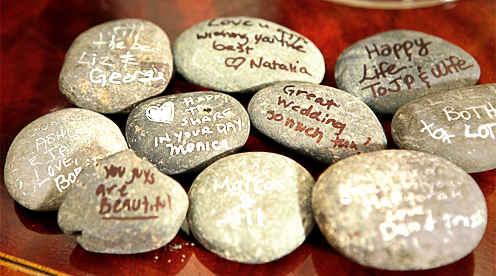 3. Unity Bowl – Australia
Australians have a beautiful tradition that involves stones. Guests are given stones and asked to hold them during the ceremony. Once the official ceremony is over, everybody places the stones in a decorative bowl that the couple keeps and displays in their home forever to remind them of the support and presence of their friends and family on their special day.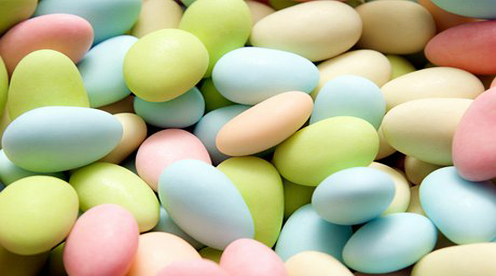 4. Confetti – Italy
To Italians, the word "confetti" doesn't mean scraps of paper shot into the air. To them, it means sugary treats, particularly sugared almonds—dragées in French—that wedding guests receive as party favors during the reception. Though these confetti were the traditional things thrown at the bride and groom, they have since been replaced by coriandoli, the tiny scraps of paper we use at surprise birthday parties or New Year's Eve.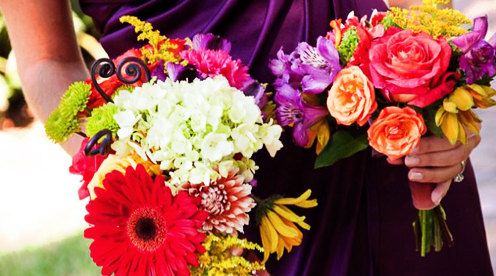 5. Two Bouquets – Mexico
The highly religious country of Mexico has a fragrant tradition that consists of the bride carrying two bouquets. The bride will commonly carry one bouquet for herself and a second as a tribute to the Virgin Mary. That's a lot of flowers!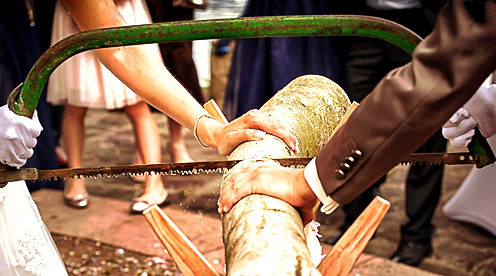 6. Log-Cutting – Germany
In Germany, newlyweds must put their bond to the test by demonstrating how well they work as a team to cut a huge log in half. This happens immediately after the ceremony, in front of all the guests at the beginning of their reception. The act is intended to showcase the bride and groom's ability to face obstacles, as a twisted way of foreshadowing what is to come.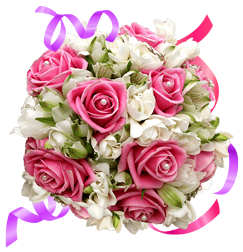 Choosing the perfect gift for a wedding is less of a hassle than you might think. With so much love and happiness in the air, it's rather difficult to mess up. Wedding gifts, big or small, are symbols of love and support. Remember to have fun on the dancefloor, to let the bride shine the brightest, and to keep it classy, allowing the couple to have a grand ol' time on their special day!