Dear potential customer. The following are all genuine emails received from our customers. They were unsolicited and are not embellished in any way. We aim to provide you a true account of people's reactions to our product.
Daniel Thomas
The Eternity Rose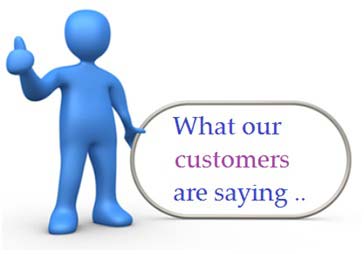 "I just received the platinum Eternity Rose that I bought on your website and I must tell you how wonderful I think it is. The presentation is simply beautiful. The package came in just two days - excellent service! Usually I'd tell everyone about something like this, but I'm thinking I don't want my friends buying this so my wife thinks I worked hard to find this unique gift for her!
Jake P.
"Thrilled with the quality! These roses are simply beautiful. I was worried about buying a gift like this from a foreign country, but you made it easy with your forthright communication. I'm glad I had confidence to buy it. It came so quickly! These rose has met and exceeded my expectations. I will most definitely buy again."
Camilia J.
"The gold rose for our Golden Anniversary went over so well. My other half was just delighted. I couldn't think of anything that was right for such an important event and I was running short of time. But it came really quickly and I'm grateful. Thank you, I plan to spread the word."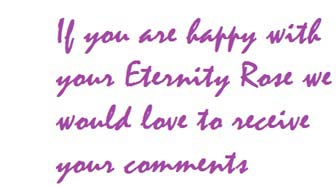 Gus N.
"My son posted me an Eternity Rose from Fiji, he was on his honeymoon! I got it right before Mother's Day and I just can't tell you how much I love it. It is simply the most gorgeous pink rose I have laid eyes on. I was curious where he got it and found your website. Just thought I would let you know. I will think of my son every time I look at it."
Jody S.

"I bought a couple of silver roses to show my wife how much I love her on our 25th Anniversary. I sure didn't expect the reaction I got! She has them sitting on the table in our dining room. Thank you for your speedy delivery."
Carl V.
"Your service is as good as your product, and that's saying something. The rose is just lovely. I bought the gold trimmed red one with the vase for my girlfriend. The package is beautiful too. My girlfriend loves it. Best gift I have given her so far. Came super quickly. Thanks!"
Sam S.
"It was mom's birthday and as usual I couldn't think of what present to buy. I just wanted something that shouted 'I love you!' I got her favorite colors, yellow and purple. She started crying when she opened the box. The roses really showed my love and I wanted to tell you so."
Joe W.
"She loves the Gold Rose. I wanted you to know that after all your help. It is beautiful and so well made, and just the most gorgeous thing I've ever seen or given as a gift. The pictures on your site don't do them justice. Your roses are superior all the way. I am telling everyone about them."
Paul D.
"I'm a real cynic when it comes to ordering online. What I actually get seldom looks like what I see online. But that wasn't the case with the Eternity Rose. It was just as beautiful in the box as it was on your website. I ordered the platinum rose and it made it here in three days. The box is just perfect, very stylish, great gift for a woman. My mom absolutely loves it and has shown it to her sisters and the neighbors. Lots of Ooos & Ahhhs! I let them know where I got it, so you'll probably be getting some more orders."
Catie L.
"The rose came, wanted to tell you it looks wonderful. I can't wait to surprise my girlfriend. It's definitely a keeper. Thank you so much."
Josh H.
"Thank you for making my purchase go so smoothly. The rose came this morning and my wife is in awe of how it looks. I'm definitely in the good books now for months ahead! She also wants to order roses for her cousin and friend's birthday. Most definitely we will tell others about your excellent product."
Dan Y.

"Mother's Day is always complicated for me. This one I bought the Eternity Rose for mom. When it arrived and I opened it, I was dumbstruck. I hope someone buys one for me some day! It is just beautiful, the best present I could have chosen for her."
Jean P.
"Just thought I would let you guys know that my girlfriend came back to me after I gave her an Eternity Rose! No kidding I got her back! From the depths of my heart, thank you."
Brett T.
"My husband gave me one of your beautiful yellow roses! Last week was my birthday and that is my favorite flower. I have been getting compliments on it from friends all week. And a friend of mine has already bought a rose from your website. I'm going to buy another for someone as a Christmas present."
Jess R.
"Your Eternity Rose is worth every penny I paid for it. Actually I bought two of them. They are reasonably priced and I really appreciate the free delivery. I'm giving them this week to my mom and my aunt and I am just hanging out to see their reactions. I already plan to purchase more for upcoming holidays. They are appropriate for all types of occasions."
Sofia F.
"This gift was so important. I was trying to express to my girlfriend just how I adore her. She was totally impressed. Thank you so much."
Juan G.

"I was so worried about getting just the perfect gift for my girl. I've given her many real roses before. With this one I wanted something that would last forever. My goal was to amaze her to the max. That's why I kept asking you folks all the questions. I appreciate the way you answered them thoroughly, quickly and in a friendly manner. I was totally blown away by the quality when it arrived. My girlfriend was so excited! Awesome gift to get her. Thanks to everyone at The Eternity Rose."
Dominic I.
"Thank you! The gold rose was beautiful. It was for my mom. I wish to buy a silver rose for my dear hubby for our 25th Anniversary. He is always giving me flowers. Now I can give him a rose! Can you get it to Florida by Friday? Hopefully it lasts forever."
July M.
"On our wedding day I wanted something special as a gift for my fiancée. So I ordered the gold rose & gave it to her on the big day. It's now with all the wedding guff. Just thought I'd write back. Great speech gift. She was worried I had spent too much money, but I told her she was worth it! It felt so good to know I had moved her so deeply. Thanks for making our special day even better!"
Harris L.
"My wife said of all the gifts I've given her over our life together, this is the best. I'm sure I'll never find a gift as perfect as this turned out to be. Maybe I will keep buying them for her each anniversary! I bet she would love that."
Sandeep D.

"I gave your roses to my sisters and my mom for Christmas - that's six roses. They look even nicer here than what I saw on the website. They all think I spent my complete budget on them! It was just the greatest feeling to find a gift they will cherish. I just wanted to say you and your roses are amazing."
Phillip S.
"These roses will make anyone happy. They are high quality and truly impressive. Great service, delivered quickly. I'm really glad about that because I procrastinated ordering."
Sienna D.
"When I arrived home, your package was waiting for me. I pretended I didn't know what it was and told my wife to open it. When she saw the gold rose, she went totally gooey. Conveyed just the message I wanted to get across to her, that I love her and what she has added to my life. Your rose said it all."
Kyle L.
"This product is just so extraordinary. My girlfriend loves it. I gave it to her this morning and you should have seen her face! Thank you for helping me choose the best rose for her. You really have excellent customer support. Not many businesses online are like that. And it arrived here in 48 hours!!"
Oliver T.

"The rose was a gift for an old girlfriend. I hadn't seen her in years. She loved it! Your service is simply excellent. Both of us appreciate how quickly you sent the vase because I forgot to include it in the order. I was nervous about seeing her again and the Eternity Rose was simply the perfect way to say hello. We aren't able to be together at the moment, but I know she thinks of me every time she looks at the rose."
Peter T.
"Thank you! Purchasing an Eternity Rose was very easy. I don't always like online shopping, but on your website I had no problem at all. And the rose is lovely. The photos and descriptive information were right on the mark. Again, thank you."
Michael F.
"Today I gave my girlfriend the Eternity Rose and was she excited! I'm telling people I know how beautiful and attractive they are."
Taaj M.
"My wife loved it! She said it was the nicest gift I've ever bought for her. She even put it up on her Facebook page, with lots of loving compliments! I am thoroughly satisfied with this purchase from you."
Marlin O.
"I just got the roses and had to let you know immediately how impressed I am. I can't wait to see the expression on my wife's face when I give them to her!"
Rob S.
"These are quality products. The service was excellent. They came quickly. Everything about your company is superior. I want to congratulate you on having such a fine work ethic. You will be highly recommended to my friends."
Jim K.
"I ordered your yellow Eternity Rose for my friend. I wanted it delivered before Saturday. Unfortunately there was a mistake made by the courier service which scheduled the delivery for later. When I let you know about the problem, you contacted me right away and said you would see what you could do to make the original deadline. It arrived just a bit behind schedule, but pretty close to on time. My friend loved it so it was truly worth the extra wait."
Matt J.
"Astonishing - that's my reaction to your roses. They look good on your website, but when you open the box, they are simply superb."
Miriam L.
"The girls on my staff really work hard and we've had a terrific year in business. I wanted to say thank you to them for all their tremendous efforts but I just wasn't able to find anything appropriate. Then I came across your website and loved what I saw. The price was right too. I received the most impressive responses from them when they each opened their gifts. I know what I'm getting my wife and mother in future! These roses are simply a perfect gift."
Bryce T.
"I ordered a rose that looked a lot like your rose, I got it from a competitor's website. I was so disappointed when it arrived. I didn't give up though. I was determined to find a rose that matched my expectations. I kept looking and found your website. Your customer sales service was excellent, which is very reassuring when you buy online. So I ordered the Eternity Rose and I have never looked back. Your rose is stunning, everything you claimed it was. I totally recommend your company to anyone looking for a special gift. Other people on the lookout for a great gift can end up with rubbish just as I did that first time, so I hope they hear about you first."
Seb M.
"Wanted to tell you how much I love your rose. My son gave me three of them on my birthday and they are simply stunning. I have put them in pride of place in the living room for everyone to see."
Eden Y.

"I found your website a few months ago. I've bought four roses there since then. Every time I am astoundingly pleased. I wanted to let you know how much I appreciate your product and service."
Cassandra E.
"The rose arrived and I am so happy with it. I've simply never come across anything like this. It has gold everywhere! It is beautiful and high quality and I'm really excited about your company and this gift. Great service too!"
Jack I.
"The rose and the vase were such a hit with my girlfriend. She said I spoiled her! We're on a tight budget and she just feels I put so much into this gift, and she loves it!"
Fadil P.
"This was my first time buying something online. It turned out so well, and I have much more confidence about buying again. You have an excellent organization and the Eternity Rose is just beautiful! There was absolutely no problem at all getting the rose to my girlfriend who is in Wisconsin right now. I am missing her badly, and this turned out to be the best way to say I love her."
Paul T.
"Thank you for your prompt reply. The rose came and it is simply beautiful. My girlfriend is speechless. I still can't get over how affordable it was. It's an awesome gift. Thank you."
Ed W.
Hi Daniel & Staff,
I would like to express my thanks for the beautiful birthday gift that I purchased for my wife from your company last week.
After receiving the delivery of the items last Thursday 22nd January on time, my wife was thrilled with the gift – Rose, Earrings & Pendant was a great surprise.
Thanks once again for the lovely arrangement & all her friends and family thought it was so exquisite as well as unique present – worth the purchase.
Regards
Chris D.
HI: JUST WANTED TO WRITE AND SAY "THANK YOU" TO ALL FOR GETTING AN ORDER OUT IN TIME FOR MY WIFE AND MINE, 25TH ANNIVERSARY. THE SILVER ETERNITY ROSE WAS A GREAT GIFT AND SHE REALLY LOVES IT. YOU NOW HAVE A LIFE TIME CUSTOMER. ONCE AGAIN THANKS TO ALL WHO MADE THIS HAPPEN. ALSO I WILL TELL OTHERS ABOUT YOUR FIRM.
TIM M.
Yes I received it. I'm honestly blown away. Way past my expectations Thank you & great box. Wow my mother cried.
Rita C.
Thank you very much for the prompt delivery of the Eternity Rose.
We've bought as a gift for my parents Golden Wedding. I can't wait to give it to them. The presentation box is classy and high standard in itself but the Rose.......... Well, it's just beautiful.
One of the nicest things I've bought, truly lovely. Thanks once again. Just hope I get one when I've done 50 years service, 27 to go!!!!!
Lesley M.
Rose arrived early this morning - beautiful. Thank you for wonderful service.
Noeline
Hello
I received the 'eternity rose' this morning and it is very beautiful.
I must say I am extremely impressed with both the quality and your service.
This is a 30th birthday gift for my daughter, who I love very much, I just know she will love it and treasure it.
Thank-you so much
Peter J
Hi David,
Mom has received her present and couldn't wait to open it. She absolutely loves them, she said they are too nice to wear but she will, to show them off.
Thank you very much for the fast delivery I am normally late with that.
Regards
Erin
Arrived safely and right on time Big thumbs up! She adores it, megabrownie points for me
Tom K.
My rose arrived today and I opened it in front of the office ladies, my expectations were exceeded, the ladies all oohed and aahhed and gushed all over the place, if my wife gets half as excited as they were I'll be a happy camper, thank you for your prompt courteous service. I'll recommend you to whoever will listen
Thank you
Bevan M.
Thank you so much for the prompt delivery of the gold rose I ordered. It arrived in perfect timing, is quite spectacular to look at & was added to a beautiful arrangement of red roses for my mom - perfect. Here's a pic.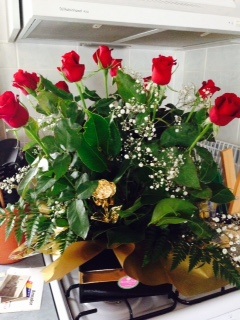 Noeleen.
David,
All is well - she ended up getting pretty attached to the Gold Rose.
I have to say, above all complaints re getting gold instead of silver, this item is fantastic. Whether dipped in Silver, gold or platinum, this rose technique is the most wonderful thing I've ever seen. I saw the photos on the website, and I just HAD to have it.
I also want to mention something to you, David - I believe this to be very important and within your interests. I found your website after searching high and low for Rainbow Roses. It was hidden somewhere in Google.
When I typed in the search term, Gold Dipped Roses, I got other companies, but could not find yours. If your quality is this good (which it is) and your product this fantastic (again, it is), then my friend I suggest you hire an SEO specialist to work on your website. It needs to be optimized (SEO = Search Engine Optimization). People need to see your quality of goods, and I suggest you give an SEO specialist a call. Get your page on first page search for Google, show some nice images of your product on your home page, and go from there. They really are worthy of high exposure.
-regards
Hello Daniel. No need to check further it arrived today. Really happy BTW - I have never seen anything like it. So amazing and so much gold on it!! thanks - great service and product.
Geoff T.
hi Daniel.
many thanks for your prompt reply. The rose arrived today. Just thought I would say it's quite stunning. My girl thinks it's unbelievable. Not sure how you do it for $149. Many thanks really awesome
Greg B.
All good! Got it today thank you so much it's perfect!!!
Harry D.
My wife was amazed with the gift and has had envious comments since. Thank you for a great product and presentation
Alan D.
Hi,
I replied earlier but for some reason the email was never sent.
I just wanted to say thank you for the service provided - my wife absolutely loved the rose and jewelry.
Thanks
Thai
Good afternoon Daniel,
I received my Rose and Vase in the post today, and OMG!!! I am blown away by just how beautiful it looks, how beautifully it is presented, and the total price - it just doesn't make sense!!!
Thank You for a wonderful smooth transaction.
I will be telling my male friends, as I think this is just a beautiful gift for our lovely wives!
Kindest regards,
Wayne W.
Dearest Eternity Rose,
Our new silver rose arrived this morning in perfect condition. You can't imagine how much this means to my wife and me. She was thrilled, to say the least!
Again, thanks very much for being so responsive! You are the greatest!
Steve R.
Dear Ms. Taylor,
The "Eternity Rose" arrived in this morning's mail. My wife's first comment was, "It is beautiful". So, again, I will say thank you for your assistance in this endeavor.
Sincerely,
Richard C
The gold roses mentioned in these testimonials can be found here - Gold-Dipped Eternity Rose

The silver roses often referred to as 25th anniversary gifts can be found here - Silver-Dipped Eternity Rose