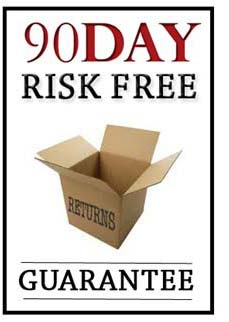 If for any reason, you are dissatisfied with a gift purchased from The Eternity Rose, you have 90 days in which to return your item and receive a complete refund.
To return an item please follow this procedure:
1) Please firstly email us your requirement to return a package, including photos of any damage.

2) Ensure you include the following with your returned package:
- All original packaging including jewelry pouches or white rose box mailing cartons.

- Certificate of authenticity.
- Your name and original invoice/order number.
- A tracking number for the returned item.
Once we have received the goods, we will ensure that your refund is processed quickly. Alternatively you may request to have the item replaced. The cost of return postage to us is not covered in your refund amount. You can read more about our guarantees under the section Satisfaction Guarantee.

If you want to return a product after 90 days under the terms of our warranty, you should first email us, outlining the reason for wanting to return it so that we can discuss the best course of action with you. If possible, it is best to email us a photo of the damage.

There are some instances that are not covered under warranty, and in these circumstances, the gift item cannot be returned:
i.e.
1. If the gold or other precious metal becomes tarnished in a standard manner.
2. If a product has been broken, bent or dropped by the purchaser.
3. If the product has been exposed to acidic chemicals and has suffered from corrosion.
Any item that has been returned under the warranty will be substituted with an identical item, and if an identical item is not available, a suitable and similar alternative will be offered. All of our products are subjected to rigorous testing and are manufactured to the highest standard in order to be relatively durable and hard wearing. Therefore, to date, almost none of our gift products have experienced failure as a result of a manufacturing error during the life of the product.
FREQUENTLY ASKED QUESTIONS
If I change my mind about the color or style of a product, can I return it?
Yes, any product can be returned within the first 90 days after purchase as long as it is sent with the original packaging and is in new condition. Should the packaging be lost or damaged, a restocking charge may be incurred. The restocking fee is $20 or 25% of the purchase value, whichever is lower.
What happens if my wife or girlfriend does not like the gift?
We understand that not every woman will like every gift. For this reason, we are completely happy to accept back unwanted gifts within 90 days. However, such an event is rare, as we find that most women actually love the look, sentiment, and romantic nature of our gifts products. You can read some of our customers' feedback on our Testimonials page.

How can I return a purchase?
Firstly, you should send us an email advising your wish to return a product. If the return relates to warranty, you will need to describe the damage or email a photo of your item, together with the original invoice number.
All returned items should be forwarded to:
The Eternity Rose
807 Airport Access Road
Traverse City
Michigan 49686 USA
It is important to note that return postage is not covered by us.
What should I do if I receive a damaged item?
Should you receive a damaged gift item, please take a photograph of the damage and send us the photograph by email. Should this prove difficult, please email us, outlining the nature of the damage. You should then send the damaged item, in its original packaging, back to our mailing address. Once the item is received by us, we will refund you the original cost or send you a replacement, whichever you prefer. We ensure that all of our gift products are sent out in secure and sturdy packaging, so we find that damage rarely occurs in transit. Our external packaging is unmarked, so there is no concern of the gift recipient discovering what the item is before the gift occasion.

Who will pay for my item to be returned?
If you need to return an item, you are responsible for the cost of postage under the terms of our RTB (return to base) warranty.
How long does it take to process a warranty return?
We always aim to post out replacement items and process refunds on the same day or the day after we receive the returned item.
If a replacement item is sent out to me, who will pay the postage costs?
We will accept responsibility for the postage of replacement items.
If we post an item back to you and it becomes damaged in transit, what happens?
You need not worry if this situation occurs. You will still receive your refund or replacement item.