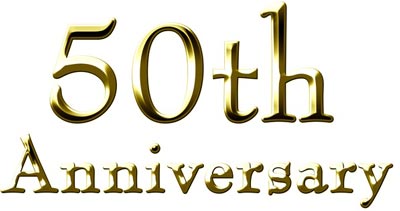 Golden Wedding Anniversary Gift Ideas for Family, Friends and Your Significant Other

Achieving the 50-year milestone in a marriage is something to be very proud of, especially when a large proportion of modern marriages end in divorce. This is all the more reason to make sure the event doesn't pass without giving the happy couple some well earned recognition for all their hard work; or showing your spouse exactly how much they mean to you. Being married for half a century shows that you've successfully worked together through all the trials and tribulations that life can throw at you. This is quite a feat that deserves a significant commemoration.
If you are reading this then you are probably on the hunt for a suitable golden wedding anniversary gift. We may sound biased, however, we think you have definitely stumbled on the right website.
Many of our customers comment that all the typical gifts that are gold oriented are rather boring and unoriginal, like gold mugs, gold plates, gold pens, a gold number 50.....the list goes on.
However, many of the testimonials we receive about our gold-dipped Eternity Roses convey sentiments of relief, appreciation and immense satisfaction for their uniqueness and suitability.
The reason for these responses is quite straight forward when you think about it. The rose is one of the most recognized symbols of love throughout the world. The male in the relationship probably gave his beloved a red rose when he was courting her over 50 years ago. A single rose really is the ultimate symbol of love, romance and devotion. So when you take this important symbol and coat it in a precious metal that perfectly signifies a very special occasion such as a 50th anniversary, you have a gift that could not be more fitting for the occasion. Our roses are presented in a leather display box which typically winds up in the couple's display cabinet, as testimony to the incredible achievement they have both contributed to. Such an important occasion truly deserves a quality piece such as an Eternity Rose, and we guarantee you that the gleam and obvious quality of our pieces will draw the reaction you are looking for.
You can even have the stem engraved with some creative words to mark the occasion.
Some suggestions for engravings are:
• Happy 50th Wedding Anniversary - May the memories of love you share today, hold the promise of more happiness, whatever comes your way
• Happy Golden Wedding Anniversary Mum and Dad - may your love last long into the future
• Love begins in a moment, grows over time, and lasts for an eternity - Happy Anniversary
• Here's to 50 years of togetherness - may our love continue to grow with time
• I will continue to love you more and more each day
We are also quite sure that most of the Eternity Roses we sell for golden wedding anniversaries will wind up with the grandkids as family heirlooms.
We personally think you would be hard pressed to find a better or more suitable gift for a 50th wedding anniversary, but of course, there is an element of bias here.
Celebrating Wedding Anniversaries is a Time-Honored Tradition
It has been reported that the tradition of wedding anniversaries dates back to the Holy Roman Empire, while others attribute the custom to medieval Germany. However, there is a common thread that runs through both beliefs. The tradition was for the husband in Roman times, and friends and neighbors in medieval Germany, to give the wife a wreath made of silver to mark 25 years of marriage, and gold to mark the half century. These symbols have been retained over time. Additional symbols have been added to mark other anniversaries, and some have been changed. For example, diamond was originally associated with the 75th anniversary. However, when Queen Victoria celebrated her 60th year on the throne, it was dubbed her Diamond Jubilee. Hence the diamond is now the recognized symbol for a 60th wedding anniversary.
The tradition for celebrating each anniversary with a different gift theme was commenced in 1922 by Emily Post who was an American author. In 1937, the current list of gift conventions came to be, when the American National Retail Jeweler Association revamped the original list, giving each year up to 25, its own special gift, and every fifth year after that.

Here are a few examples:
• 1st anniversary - paper
• 5th anniversary - wood
• 8th anniversary - bronze
• 10th anniversary - tin
• 13th anniversary - lace
• 15th anniversary - crystal
• 20th anniversary – china (platinum in more modern times)
• 25th anniversary - silver
• 50th anniversary - gold
Half a Century of Matrimony - Great Cause for Celebration
When you've reached the half century, or you know someone who's about to, take some time and think about how best to celebrate the occasion. You definitely can't let it pass without doing something, even if the couple want things to be low key. There are lots of different ways to have a celebration, and they don't necessarily involve fanfares and trumpets. Take into consideration the wishes and interests of the couple, and plan around what they would most like. It might be a quiet, cozy candlelit dinner for just the two of them, or it might be a party with enough guests to fill the Albert Hall; and when it comes to gifts, well, the sky's the limit.
It's highly likely that the couple are pretty much set up with everything they need, so pick a golden wedding anniversary gift that is tasteful, top quality, and desired to stay on display for many more years to come. The internet has certainly made gift shopping much easier, but not necessarily quicker. There is so much to choose from, it might take you days to sift through all the pages. So it's better to have some kind of idea in mind, rather than randomly searching. However, it's still advantageous to do some research on the internet, rather than spending hours trudging backwards and forwards along the High Street. Both the traditional and modern symbols for 50 years of marriage is gold. This precious metal is beautiful, strong, and very resistant to corrosion, much like a long-lasting marriage. Optimism and wealth are two other things that are often associated with gold, both of which you've attained after 50 years of marriage. Imperial or Golden Topaz are also associated with a 50th wedding anniversary, along with yellow roses and violets.
Be Different - Handcraft your own 50th Wedding Anniversary Gift

Making a 50th wedding anniversary gift will make it so much more personal, so how about trying out a few of these ideas:
Burn off a CD with some notable tunes - you might need to know a bit about the couple in question, but if you're stuck for ideas, there are probably plenty of other people to ask. Find some songs, tunes or music styles that were popular during the time that the couple dated and when they were married. There might even be a favorite style or particular tune you can add; and how about the song that was played for their first dance together on their wedding day?
Pen a poem - you might not be a budding Shakespeare, but have a go at writing a poem. If you find yourself really stuck, or the words you want to say come out as a jumble, take a look on the internet for a suitable verse. Handwrite the poem you've chosen using gold ink, and frame it in a golden picture frame. Add any decorations you want and hey presto, you have a personalized gift that anyone would be proud to display.
Create a family quilt - each member of the family could design their own square for the quilt using embroidery, paint, photos or some poignant words. Join them all together, and you've produced a very precious golden wedding anniversary gift that will be treasured indefinitely.

Build a wish tree - find an attractive branch and paint it in gold. Decorate it with gold ribbons and other accessories, together with items and objects that will bring back happy memories for the couple. Add gift items such as travelers checks for a holiday, tickets to the theatre, gift vouchers for their favorite restaurant, or a noteworthy experience.
Compile a scrapbook of memories - with the help of family and friends, gather together some photos that were taken during the couple's 50 years of marriage. It might include pictures from the happy day, kids and grandkids, previous homes, memorable holidays, and maybe even a few anecdotal stories from family and friends.
Other handcrafted gift ideas - If you are looking for further inspiration on other meaningful handcrafted gift ideas for this special anniversary, you can click here.

Party Planning Made Easy for a Golden Wedding Anniversary

Have you explored all the avenues for the perfect gift, and are still struggling to come up with something special? Why not take on the task of organizing a celebratory party? It's really not as hard as you might think. Compiling a guest list shouldn't be that difficult. After 50 years together, there's likely to be a whole bunch of family and friends who would love to take part. When deciding on numbers, think about what would be most enjoyable for the husband and wife. They might want to gather all the family together, and get back in touch with long-lost friends. Alternatively, a small and discreet gathering might be more their cup of tea. A golden wedding anniversary party is easy when it comes to decorating, as everything needs to center around the color gold. These include gold ribbons, gold balloons, gold accents for table settings, and a cake topped with a golden number 50, or perhaps their original cake topper (if it's still around). Background music could consist of songs from the era they dated or got married, their favorite genre, or they might even have a memorable song. Decorate the venue with photos of the couple throughout the years.
Treat the Couple to a Holiday They'll Remember
Budget allowing, why not treat the happy couple to a holiday they'll remember for many years to come? Even after 50 years together, there are probably still many places they've yet to visit. You could even suggest to other family members that they pitch in to finance the venture, and you can look at sending them off somewhere really special. Whether an African safari or luxury cruise, there's a big wide world out there just waiting to be enjoyed.
Famous Wedding Anniversary Quotes
The union of two people for any given time, is such an important part of life that many famous people have chosen to voice their opinions. Here are just a few you might want to include in your greetings card, gift or scrapbook.
"A wedding anniversary is the celebration of love, trust, partnership, tolerance and tenacity. The order varies for any given year."
Quoted by Paul Sweeney
"If I had a flower for every time I thought of you, I could walk in my garden forever".
Quoted by Alfred Lord Tennyson
"There is no more lovely, friendly and charming relationship, communion or company than a good marriage".
Quoted by Martin Luther
"It's so great to find that one special person you want to annoy for the rest of your life".
Quoted by Rita Rudner
"You know you're in love when you can't fall asleep because reality is finally better than your dreams".
Quoted by Dr Seuss
Even Celebrities Can Make it to 50 Years
Everyday when you open the tabloids, it seems that another celebrity marriage is deteriorating or has gone down the pan. It may surprise you to know that there are a few celebrities who have made it to half a century, and look set to last much longer. For example:
Kirk Douglas and Anne Buydens - May 2004 saw this celebrity couple celebrating their 50th wedding anniversary.
Joanne Woodward and Paul Newman - following a 10-year first marriage, Paul Newman went on to enjoy 50 years of marriage to famous actress Joanne Woodward. They remained blissfully married until Paul's death from lung cancer in 2008.
The Queen and Prince Philip - this Royal couple have so far enjoyed 67 years of marriage and look set to enjoy more years to come.
Bill and Camille Cosby - celebrated their 50th wedding anniversary in 2014, and have 5 children together.
Simone Signoret once said "Chains do not hold a marriage together. It is threads, hundreds of tiny threads, which sew people together through the years".
Celebrate the union of two special people, and show them how important they are and the shining example they've been to everyone they've met.
Happy Golden Wedding Anniversary from The Eternity Rose - You've certainly earned everyone's respect and admiration.