Are you looking for the perfect Valentine's Day gift for her this 2018 Valentines? A gift that makes a genuine statement about your feelings? Well, a gleaming Eternity Rose makes a Valentine's gift somewhat unlike anything you have ever given before. We have scores of testimonies from customers who have felt compelled to write in and tell us that an Eternity Rose deeply touched their beloved girlfriend or wife. Based on these testimonies, we can advise with confidence that an Eternity Rose is the perfect Valentine's Day gift, which combines the elegance of a rose with the style of fine jewelry.
Our Recommended Gifts Ideas for Your Special Lady

Surprisingly, all countries on earth recognize the rose as the leading symbol of love and romance. The rose has largely been immortalized in our art and literature, and is steeped in romantic history.
The Eternity Rose was therefore created to be an everlasting statement of love that can transcend all of those in-between times when we just don't get to say "I love you" as often as we probably should.

If you are like me, then in your earlier days you may have viewed Valentine's Day as a commercial conspiracy designed to part us from our hard-earned cash. However, as you spend more time with your chosen partner, you begin to realize that it's actually an important part of your relationship harmony. Important, because it compels you to reach out and remind your darling that you really do love her, and are involved enough to go out and seek a thoughtful and loving gift. So when it comes to finding an all-important Valentine's gift, we feel confident in recommending an Eternity Rose to make that important statement, and provide a symbolic and permeating declaration of love that will last forever. Add a tender, loving Valentine's card with your Eternity Rose, and you have an exceptional Valentine's Day gift that is likely to delight the love of your life, and linger in her memory from wherever she chooses to display it.
So why do people share gifts of love on Valentine's Day? If you are interested, you can read on for an informative account of how this lover's holiday came to be.
THE FABLE OF ST. VALENTINE
While we are well aware that February is considered a month of love and romance, the history of the patron saint of Valentine's Day is filled with much mystery. We know that Valentine's Day contains traces of both the ancient Roman and Christian traditions. However, most people want to know who Saint Valentine was, and exactly how his name came to be associated with a day of love.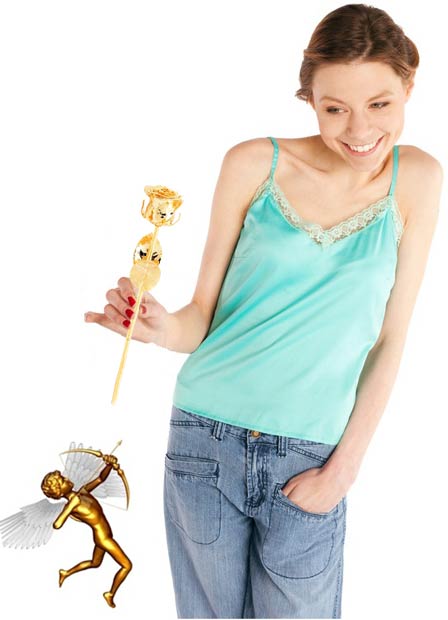 There are actually three Catholic saints by the name of Valentine, each martyred for various reasons.
The first legend of Valentine involves a priest in Rome. This third century Valentine defied orders and was put to death. During his reign, Emperor Claudius II declared marriage forbidden for all young men. He reasoned that men who were single would be undistracted, and would therefore make the best soldiers. When young people approached Valentine and asked him to perform marriage vows for them, he did so in secret, defying direct orders from Emperor Claudius. Valentine felt so strongly that young lovers should be able to ceremoniously formalize their love for one another, that he continued to defy the emperor until he was caught and sentenced to death.
A second legend declares that Valentine helped many Christians escape from Roman prisons, in which prisoners were tortured and beaten on a daily basis. When caught, Valentine was killed for his efforts.
A third legend has Valentine stuck in prison himself. The story says that his heart had been captured by a young woman who may have been the jailor's daughter. This young woman would visit him while he was behind bars. One day he sent her a heartfelt greeting, which he signed "From your Valentine." Today, we use a variation of that simple signature.
Although no one knows if any of these legends are completely true, they all essentially have their roots in some kind of real event in history. No matter what the legend, each Valentine is portrayed as a romantic and sympathetic hero.
How a pagan commemoration became St. Valentine's Day
Some people strongly believe that we celebrate Valentine's Day in mid-February to remember the day that Valentine died or was buried. This would have occurred somewhere around the period AD 270. However, other people believe that Christians placed the holiday in mid-February in order to 'Christianize' the celebration called Lupercalia. Celebrated on February 15th, Lupercalia was a festival dedicated to fertility and to the Roman god of agriculture, Faunus. The celebration of Lupercalia also honored the founders of Rome, Remus and Romulus.
Each year, the festival began when the Luperci members who belonged to the Roman priests order, gathered in the sacred cave where they believe Remus and Romulus were cared for as infants by a lupa, or she-wolf. Here, a goat was sacrificed to signify fertility, whilst a dog was sacrificed to signify purification. The priests then skinned the goat and cut the hide into fine strips. These strips were then dipped into the pure sacrificial blood. The priests carried these bloodied strips onto the streets and began to gently slap women as well as nearby crops with the hide strips. The Roman women were keen to seek contact with the goat hides because they believed that the pure blood on the goat's hide would bring them great fertility in the proceeding year. Farmers also loved having their crops blessed for a more fertile growing season.
On the night of the festival, every young woman in the vicinity would put her name in a large urn. All the bachelors would reach in and pick a name, and become paired with this woman for the next year. These random matches often resulted in love and subsequent marriage.
Valentine's Day - The day that love joins two hearts together
Although the celebration of Lupercalia continued as Christianity rose in popularity, it was outlawed and deemed to be 'un-Christian' towards the latter stage of the fifth century. It was at this time that Pope Gelasius decided that February 14th would be the official day to celebrate St. Valentine's Day. The aspect of love associated with this day didn't occur until the Middle Ages, when the people of England and France noted that February 14th marked the start of the mating season for birds. This observation added a touch of romance to this holiday.
It is said that people in the Middle Ages exchanged verbal Valentine's Day greetings. However, it wasn't till after 1400 that the first written Valentine greetings were sent. In 1415, Charles, the Duke of Orleans, was captured during the Battle of Agincourt and held prisoner. At this time he wrote his beloved wife a poem and somehow managed to successfully send it to her. This original Valentine greeting is the oldest on record, and is a part of a manuscript collection held in London at the British Library. Years later, King Henry V directed John Lydgate, a writer of romantic words, to compose the perfect Valentine greeting to his beloved queen, Catherine of Valois.

Valentine's Day Today
The US, UK, Canada, Mexico, France and Australia all celebrate Valentine's Day. As early as the 17th century, the people in Great Britain were celebrating St. Valentine's Day. Towards the middle part of the 18th century, it became more common to give lovers and friends small gifts or notes written by hand to express love or appreciation. This exchange of gifts and notes transcended all social classes.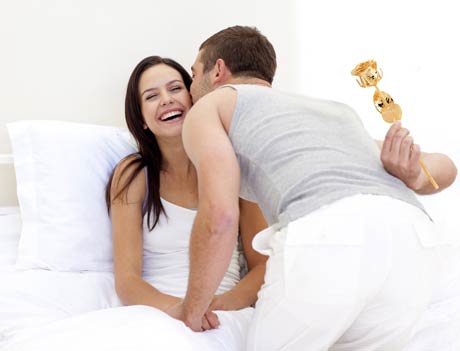 The early 1900s saw the first printed Valentine cards on the open market. Due to vast advancements in technology, it became easier to print sentimental cards filled with thoughts of love and devotion. Many people had trouble expressing their emotions, and so the pre-printed cards offered them a chance to share their love with sweet words. It also helped tremendously that the cost of postage was quite reasonable, making it increasingly possible to send Valentine cards through the mail system.
Handmade Valentine's cards were often exchanged in the Americas as far back as early 1700. The 'Mother of the Valentine', Esther Howland, began to make and sell Valentine's cards in the 1840s. Her first mass production of cards featured colorful pictures, adorned with genuine lace and ribbons.
Today, the Greeting Card Association estimates that around 1 billion cards are purchased every Valentine's Day. This places Valentine's Day as the second biggest holiday, to Christmas, for card giving. One final little fact about Valentine's cards: about 85% of all Valentine's Day cards are bought by women. Many women also give an Eternity Rose to their Mother on Mother's Day. You can read more about Mother's Day gifts here.
Now that you know the history of Valentine's Day, you can better understand why giving a symbol of love to those you cherish is especially appreciated on this day. Remember, show your love by giving the ultimate long-lasting symbol of your love... .an Eternity Rose.