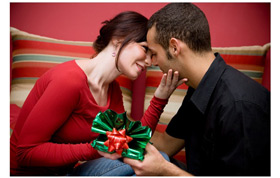 It is so easy to put off shopping for loved ones during the holidays if you just can't think of what they would like. This often results in fighting the Christmas crowds on a last-minute shopping expedition.
When you buy gifts for her throughout the year, for birthdays, anniversaries, as well as Christmas, it's easy to run out of ideas. You can always buy a pound of chocolates, but that doesn't show much creativity.
What you really want is a gift that says, "I thought of something especially for you because I love you." We all want to show devotion and love to the special people in our lives, but finding the gift that embodies these sentiments is the challenge.
The perfect Christmas gift
An Eternity Rose is one such gift. Pairing the beauty of the most majestic flower with the style and chic of jewelry, it can be displayed with pride forever after.
The Eternity Rose is a natural rose, dipped in either gold, platinum or silver, or preserved in one of many colors that is glazed and trimmed with gold. Either the presentation box or an accompanying vase presents it in all its glory.
Every single Eternity Rose is made with the highest craftsmanship, and intricate detailing.
Your wife, girlfriend, or mother will cherish any of these pieces, which show your taste, love and commitment in the deepest possible way.
You can buy with confidence. We stand behind each of our products with a satisfaction guarantee of a full refund, no questions asked, when requested within 90 days of the invoice date.
Gifts for Him
It's tough for women to buy for the men in their lives; and another tie, pair of socks, or bottle of aftershave just won't do again for Christmas.
This year, be different! Give him The Eternity Rose golf ball and tee set that has been dipped in 24 karat gold. We have two versions available. One is made from a proprietary formula where gold is mixed with a polymer, resulting in a gold-dipped golf ball & tee set that is fully playable. Made from a high-grade tournament golf ball, it hits as straight and as far as his best regular balls.
The second style of gold-dipped golf ball we have is not playable. It is coated in pure 24 karat gold and is intended for display purposes only. Many are used as trophies and the like. They look fabulous sitting in a display cabinet or on a shelf or desk.
Another interesting gift for him which we produce, are gold-dipped tournament-grade poker cards. These are not medium quality playing cards, but very high quality cards presented in a beautiful cherrywood display case. We have sold literally hundreds of sets to Casino's around the world who regularly buy from us for their high-roller rooms or poker tournaments. The cards have exquisite intricate detail and are also quite durable. His occasional card night will never be quite the same!
These unusual gifts will be valued all year long. They are conversation starters and are a very thoughtful, unique way to show him your love at the holidays.
None of these products are cheap novelties in any way. They are made by craftsmen to the highest standards. Hopefully you can get a good feel for the quality of these items from our product page videos. They also make excellent Father's Day gifts. You can read more about Father's Day in our section on Father's Day gift ideas.