Finding the perfect birthday gift for the woman in your life, whether she is your wife, girlfriend or mother, looms large for most men. You want something elegant, magical and classy. Every time she looks at it, you want her to think of you with love.
We've got the answer: an Eternity Rose. It combines the beauty of flowers with the style of exquisite jewelry. It is the perfect gift for a birthday, anniversary, or any other day you want to mark as special.

Listing your love
But don't stop there! If this special gift is for your girlfriend or your wife, make a list of all the things you so love about her, and what makes her special in your eyes. If it's for your mom, tell her how grateful you are for all she has done for you. Write down some of your special memories from childhood.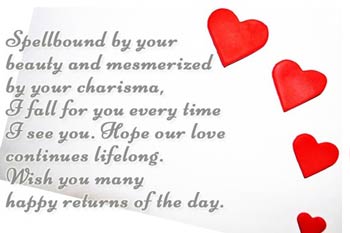 Write it out by hand. This is no job for a computer and printer! Don't worry if your handwriting isn't the best. What's important is that you take the time to personally create the list. If you are lost for words and are looking for inspiration to describe the qualities in her you most admire, check out our article here which outlines all the essential traits of a woman you should never let go.

Add this list to the box that contains the Eternity Rose. She will never have received anything more valuable from you in her life. This is also a wonderful thing to do as a Valentine's Day Gift.
The importance of birthdays
Humans have been celebrating birthdays since the time of cavemen. Ancient civilizations believed that evil spirits would try to possess people on the anniversary of their birth. To drive these spirits away, it was important to gather around the birthday girl or boy to keep them safe. And besides, everyone in the epoch loved an excuse for a good party!
In those times, the emphasis was on crowds and conviviality. It wasn't until later times that presents became the norm. These started out as just a token to express friendly feelings and good wishes for the coming year. The more tokens that a person received, the more positive was the omen for the next 12 months.
With time, gifts became expected from loved ones. They came to represent love, joy, friendship and togetherness, and so a gift carefully chosen resonates with the person receiving it.
Choosing a gift
When you choose a gift for a special lady in your life, what you are actually doing is speaking to this woman you love. The gift forms part of the language you use, including the wrapping, the card, and the way you present it. If you choose wisely, then all of these components should say, "I love you."
When choosing a gift, the goal is to find one that means something special to the receiver. It shows that you care enough to spend the time and effort to find a gift that is personal and fitting.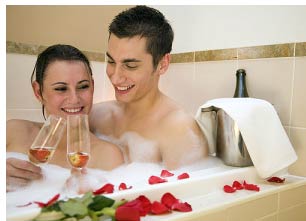 Whether it is a once-in-a-lifetime hallmark birthday, a special anniversary, or Mother's Day, an Eternity Rose is timeless and always appropriate. What you are saying to your loved one is "I feel close to you. You are essential to my life." For more information on anniversaries, see our web page here.

A bouquet of flowers is beautiful, but it lasts such a short time. With an Eternity Rose, you are giving a flawless flower that will be around for a lifetime.

It's worth the trouble
The right gift brings joy all around. You may well enjoy the process of finding the perfect gift, but more importantly, the woman in your life feels overwhelming joy when she receives something from you that has been selected with such love, thought and care. An Eternity Rose is exactly what she wanted, even if she didn't know it existed before receiving it! And you, once again, experience true joy at her delight.