Below we present a well-researched and reliable list of 21st wedding anniversary gift concepts and ideas. Choose from popular items, colors and themes to come up with something that will be truly appreciated, and will reveal how much you love and care for the recipient.
Modern Gift Theme: Brass; Nickel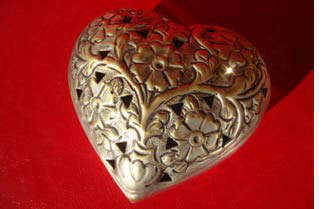 Brass represents the durability of a relationship. In the biblical sense, brass also represents natural goodness.
Nickel signifies quantity, tendency and consequence. In the spiritual sense, it symbolizes emotional wellbeing, and absence of negativity. It encourages creativity and a lightness of spirit.
Gemstone: Iolite
Color: Orange
Flower: None
Popular Modern and Other Gift Ideas
• Brass home wares (eg, vase, mugs/goblets, dishes, plates, bowls, candle holder, clock, bookends)
• Brass photo frame
• Brass ornaments, figurines and sculptures
• Brass musical instruments
• Brass jewelry box
• Brass watch
• Brass keychain
• Nickel cufflinks
• Nickel candle holders / candelabra
• Nickel coin collection
• Nickel door knocker
• Nickel jewelry box
• Nickel lamps
• Nickel card case
• Nickel money clip
• Nickel letter opener
• Nickel or brass jewelry (eg, necklace, bracelet, ring, earrings)
• Iolite jewelry
Following are your next 5 anniversary gift theme years:
22nd wedding anniversary gift ideas | 23rd wedding anniversary gift ideas | 24th wedding anniversary gift ideas |
25th wedding anniversary gift ideas | 26th wedding anniversary gift ideas |