See below some established themes you can choose from that are associated with 3rd wedding anniversaries. You do not need to feel tied to any particular theme if you are choosing a gift. There are many colors, items and themes you can combine or select from to ensure your loved one receives a gift perfectly suited to their tastes.
Traditional Gift Theme: Leather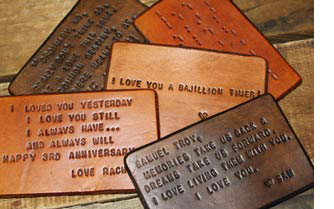 Leather has traditionally signified covering and protection, as our ancestors protected and covered themselves from harsh weather with the leather hides of animals. In the third year of marriage therefore, leather represents warmth and shelter, as each person takes care of the other in a relationship that is developing into a source of stability for the two people.
Modern Gift Theme: Crystal/Glass
Crystal is dazzling in its beauty and in the way that light reflects off the multifaceted surface, serving as a reminder of how a couple can inspire and touch the hearts of others through their dynamic team-work. Crystal and glass are also fragile and in this respect, this modern theme for the 3rd wedding anniversary is seen to represent the need for handling the marriage with care, and not taking one another for granted.
Gemstone: Pearl
Alternative Gemstone: Crystal; Jade; Moonstone
Color: Jade; White
Flower: Fuchsia; Sunflower; Lily of the Valley; (Substitute: White Rose)

Fuschia means confiding love, amiability and good taste.
The sunflower according to Chinese symbolism refers to good luck, long life, and is deemed very auspicious. The color of yellow denotes vitality and intelligence. It is also a symbol of happiness. In Christianity, the sunflower represents God's love and unwavering faith.
The lily of the valley signifies purity, humility, return of happiness, sweetness, trustworthiness and purity of heart. In essence, it captures the concept "you have completed my life".
Popular Traditional Gift Ideas
• Leather clothing and accessories (eg, gloves, belt, cap, jacket, slippers)
• Leather photo album
• Leather passport-holder
• Leather wallet, handbag or book-bag
• Leather laptop/computer case or briefcase
• Blank journal with leather binding
• Leather diary
Popular Modern and Other Gift Ideas
• Crystal home wares (eg, vase, bell, wine goblets, bowl/dish, jug/pitcher, candle holder)
• Crystal figurines
• Crystal paperweight
• Pearl jewelry (eg, bracelet, necklace, earrings, ring)
• Crystal, jade or moonstone jewelry as alternate gemstone options associated with the third wedding anniversary
• Pearl-White Glazed Eternity Rose (to represent the color white associated with the 3rd wedding anniversary)
• Light-Green Glazed Eternity Rose or Dark-Green Glazed Eternity Rose (to represent the color jade associated with the third wedding anniversary)
• Floral-themed gifts involving the fuschia, sunflower or lily of the valley (eg, art print, scented products such as candles or perfume, plant)
• Fresh bouquet of fuschias, sunflowers or lily of the valley flowers
Check out the video for our Dark-Green Glazed Eternity Rose

Below are the next 5 anniversary years so you can think, plan and coordinate your gifts over the coming years:
4th wedding anniversary gift ideas | 5th wedding anniversary gift ideas | 6th wedding anniversary gift ideas |
7th wedding anniversary gift ideas | 8th wedding anniversary gift ideas |