Your loved one deserves a 7th wedding anniversary gift that expresses your heartfelt sentiments, so use our list of themes and gifts traditionally associated with the 7th anniversary in the USA to guide you. Combine colors, themes and items to come up with a present that is ideally matched to the tastes of the recipient.
Traditional Gift Theme: Copper (US); Wool (UK)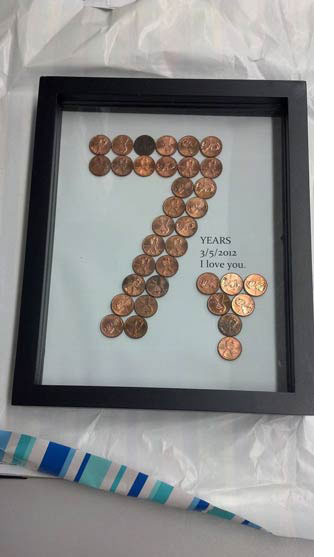 Copper is a symbol of beauty, strength and prosperity. It is a soft, yielding and malleable metal, and is also a great heat and electricity conductor, symbolizing the warmth, chemistry, and passion of a couple who, by their 7th wedding anniversary, have grown accustomed to each other through a number of years of compromise, and finding an even balance.
Wool represents warmth, safety, comfort and security, all vital ingredients for a stable and healthy marriage which has reached its seventh anniversary.
Modern Gift Theme: Brass; Desk Sets
Brass represents the durability of a relationship. In the biblical sense, brass also represents natural goodness.
Desk Sets are practical and signify the day-to-day commitment of the couple who work together in harmony.
Gemstone: Onyx
Alternative Gemstone: Lapis Lazuli; Yellow Sapphire; Copper
Color: Yellow; Off-White
Flower: Jack-in-the-pulpit; Freesia; (Substitute: Yellow or White Rose)

The jack-in-a-pulpit is a wild flower which blooms in the spring season in moistened wood areas. It symbolizes shelter, thereby representing the safety and protection that two people provide each other in their marriage.
Freesia flowers carry a range of meanings, including innocence, friendship, perseverance and thoughtfulness. On the 7th wedding anniversary, a couple's friendship has grown stronger, whilst perseverance and thoughtfulness are exercised during the more challenging times.
Popular Traditional Gift Ideas
• Copper home wares (eg, vase, goblets, mugs, dishes, bowls pitcher/jug, candle holder, plant or flower pot, clock)
• Copper sculpture or figurine
• Woolen clothing and accessories (eg, gloves, sweater)
• Woolen blanket or rug
Popular Modern and Other Gift Ideas
• Brass home wares (eg, vase, mugs/goblets, plates, bowls, candle holder, clock, bookends)
• Brass photo frame
• Brass ornaments and figurines
• Desk set
• Onyx jewelry (eg, necklace, bracelet, ring, earrings)
• Lapis lazuli, yellow sapphire or copper jewelry as alternate gemstone options associated with the seventh wedding anniversary
• Yellow Glazed Eternity Rose (to represent the color yellow associated with the 7th wedding anniversary)
• Pearl-White Glazed Eternity Rose (to represent the color off-white associated with the seventh wedding anniversary)
• Floral-themed gifts involving the jack-in-a-pulpit or freesia (eg, art print, scented products such as candles or perfume, plant)
• Fresh bouquet of jack-in-the-pulpit flowers or freesias
Check out the video of our Pearl-White Glazed Eternity Rose

Here are the next 5 anniversary years if you wish to plan things ahead:
8th wedding anniversary gift ideas | 9th wedding anniversary gift ideas | 10th wedding anniversary gift ideas |
11th wedding anniversary gift ideas | 12th wedding anniversary gift ideas |