Use our handy traditional 8th anniversary gift themes listed below to help you tailor a gift that ideally suits the recipient. Show how much you care by mixing and matching different colors, themes and items to come up with a really special present that they will love forever.
Traditional Gift Theme: Bronze; Pottery (US); Salt (UK)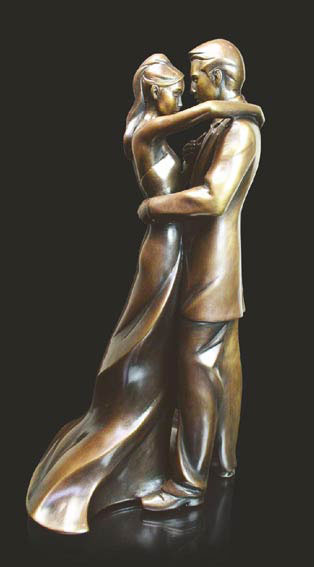 Bronze is believed to possess natural healing powers when in close proximity to the body, thereby representing good health in a marriage as well as the sustenance that each person provides to carry the other person through difficult times.
Pottery symbolizes the shaping of a relationship over time into something that becomes more beautiful and amazing as each year passes. The 8th wedding anniversary recognizes this stately transformation of the marriage.
Salt is an essential life mineral which, in ancient times, was used as a preservative, seasoning, disinfectant, and unit of exchange. At an early point of civilization, it became a necessity to most nations, and was a luxury that was difficult to obtain in many regions of the world. On the eighth wedding anniversary, salt represents the love and companionship that has become essential for two people in the marriage to survive. Each cannot do without the other.
Modern Gift Theme: Linen; Lace
Linen signifies purity and honesty, derived from biblical writings in which figures who relayed truths from the Divine, including angels, were clothed in white linen.
Lace further offers a special touch of luxury, taste, beauty and elegance.
Gemstone: Tourmaline
Alternative Gemstone: Aventurine; Tanzanite; Bronze
Color: Bronze
Flower: Clematis; Lilac; (Substitute: Rose)

The clematis is a beautiful climber which traditionally marks intellect and cleverness, symbolizing the cognitive connection between two minds in a marriage.
The purple lilac represents the emotions of first love, and the white Lilac symbolizes youthful innocence.
Popular Traditional 8th Anniversary Gift Ideas
• Bronze home wares (eg, bookends, door knocker, vase, mugs/goblets, plates/bowls, candle holder, plant or flower pot)
• Bronze sculpture or figurine
• Bronze wind chimes
• Bronze photo frame
• Pottery home wares (eg, vase, bowl, dish, mugs, jug/pitcher, candle holder, plant or flower pot)
• Pottery sculptures or figurines
• Enrolment in a pottery class
• Salt and pepper dispenser
Popular Modern and Other Gift Ideas
• Lace clothing or attire (eg, gloves, lingerie)
• Lace home wares (eg, tablecloth)
• Linen / Lace bedding
• Tourmaline jewelry (eg, necklace, bracelet, ring, earrings)
• Aventurine, tanzanite or bronze jewelry as alternate gemstone options associated with the 8th wedding anniversary
• Floral-themed gifts involving the clematis or lilac (eg, art print, scented products such as candles or perfume, plant)
• Fresh bouquet of clematis flowers or lilacs
Below are the next 5 anniversary years if you wish to think about future themes:
9th wedding anniversary gift ideas | 10th wedding anniversary gift ideas | 11th wedding anniversary gift ideas |
12th wedding anniversary gift ideas | 13th wedding anniversary gift ideas |