If you need to find a loved one the perfect 6th anniversary gift, derive your inspiration from our list of established 6th anniversary gift themes. There is no need to be bound by rules when you are searching for a gift that ideally matches the recipient's tastes, while revealing how much you care. Simply mix and match from the different colors, themes and items, and you will create something truly special.
Traditional Gift Theme: Iron (US); Candy (UK)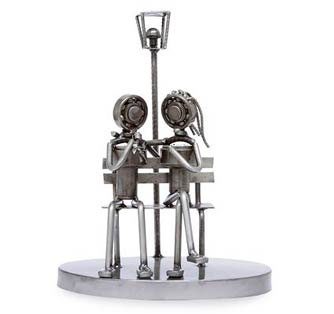 Iron signifies strength and good luck, bestowing the concept of good fortune on all the days ahead of the marriage. In the biblical sense, iron represents natural truth.
Candy symbolizes the sweetness in a marriage, affording the opportunity to rekindle the passion and love that initially brought two people together.
Modern Gift Theme: Wood
Wood represents a solid and stable marriage, accompanied by the development of wisdom which equips the couple with the important skill of forgiveness for mistakes made.
Gemstone: Amethyst
Alternative Gemstone: Garnet; Turquoise
Color: Purple; White; Turquoise
Flower: Calla Lily; (Substitute: Purple or White Rose)

The calla lily symbolizes magnificent beauty. In Christian ideology, the flower has come to be associated with faith, holiness, chastity and purity. Conversely, the flower's large phallic stalk (spadix) symbolized sexuality and lust among the Romans. These combined concepts represent the qualities of faith and fidelity in a wholesome marriage that also contains elements of romantic love and desire.
Popular Traditional Gift Ideas
• Iron home wares (eg, bookends)
• Go out for a special dessert or cook/prepare something sweet at home
• Box of candy
• Candy dish
• Dessert cookbook
Popular Modern and Other Gift Ideas
• Wooden basket
• Art-print of trees
• Romantic wooden gifts for her (eg, jewelry box, music box)
• Bookends
• Wooden home wares (eg, salad set, bowls, placemats, wine rack)
• Wooden sculpture
• Wooden furniture
• Wooden jigsaw puzzle
• Wooden chess set
• Amethyst jewelry (eg, necklace, bracelet, ring, earrings)
• Garnet or turquoise jewelry as alternate gemstones associated with the sixth wedding anniversary
• Purple Glazed Eternity Rose (to represent the color purple associated with the 6th wedding anniversary)
• Pearl-White Glazed Eternity Rose (to represent the color white associated with the sixth wedding anniversary)
• Floral-themed gifts involving the calla lily (eg, art print, scented products such as candles or perfume, plant)
• Fresh bouquet of calla lilies
A video of our Purple Glazed Eternity Rose is presented here

Below are the next 5 anniversary years so you can plan ahead:
7th wedding anniversary gift ideas | 8th wedding anniversary gift ideas | 9th wedding anniversary gift ideas |
10th wedding anniversary gift ideas | 11th wedding anniversary gift ideas |