If you are searching for the perfect gift to give a loved one for their 5th wedding anniversary, our list below offers you some great traditional gift ideas. With so many colors, themes and items to pick from, it couldn't be easier to mix and match in order to create a truly heartfelt gift that is perfectly suited to the recipient.
Traditional Gift Theme: Wood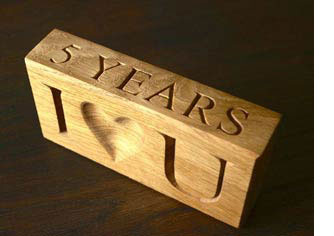 In ancient times, trees represented strength as well as wisdom, thereby symbolizing the solidification of the marriage by the fifth year, in which the couple has gained a deeper understanding and acceptance of mistakes made. In this respect, the couple has acquired the crucial skill of forgiveness, which is one of the secrets of a successful marriage.
Modern Gift Theme: Silverware
Silver represents awareness, clarity and vision due to its bright and clear appearance. It also symbolizes purity, focus, strength and persistence. A modern Silverware gift is a reminder of the connection between two people in their daily lives, for example, in the sharing of meals with one another and their combined families at the table (with the use of silverware).
Gemstone: Sapphire
Alternative Gemstone: Turquoise; Pink Tourmaline; Rose Quartz
Color: Blue; Pink; Turquoise
Flower: Daisy; (Substitute: Blue, Pink or Silver Rose)

The daisy signifies innocence, loyalty, faith, confidence and purity.
Popular Traditional Gift Ideas
• Wooden basket
• Art-print of trees
• Romantic wooden gifts for her (eg, jewelry box, music box)
• Bookends
• Wooden home wares (eg, salad set, bowls, placemats, wine rack)
• Wooden sculpture
• Wooden furniture
• Wooden jigsaw puzzle
• Wooden chess set
Popular Modern and Other Gift Ideas
• Silverware (eg, plates, bowls, goblets, cutlery, candle holder, wine bucket, tea set)
• Silver photo frame
• Silver jewelry (eg, necklace, bracelet, ring, earrings)
• Sapphire jewelry
• Turquoise, pink tourmaline or rose quartz jewelry as alternate gemstones associated with the 5th wedding anniversary)
• Silver-Dipped Eternity Rose (to represent the modern theme of silverware associated with the fifth wedding anniversary)
• Light-Blue Glazed Eternity Rose or Dark-Blue Glazed Eternity Rose (to represent the color blue associated with the 5th wedding anniversary)
• Pink Glazed Eternity Rose (to represent the color pink associated with the fifth wedding anniversary)
• Floral-themed gifts involving the daisy (eg, art print, scented products such as candles or perfume, plant
• Fresh bouquet of daisies
You can have a look here at the video of our Pink Glazed Eternity Rose
Below are the next 5 anniversary years so you can think ahead:
6th wedding anniversary gift ideas | 7th wedding anniversary gift ideas | 8th wedding anniversary gift ideas |
9th wedding anniversary gift ideas | 10th wedding anniversary gift ideas