Below, you will find a list detailing all the most common and established themes used to celebrate a 19th wedding anniversary. If you are trying to find the perfect gift, you needn't feel obliged to adhere strictly to any specific theme, you can simply mix and match. Select a color, theme and/or item that you feel will suit the recipient most, and you will surely find a present that will really fit the bill.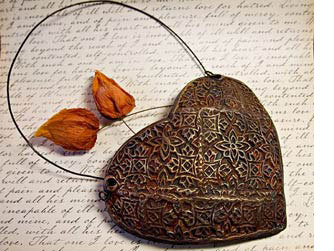 Modern Gift Theme: Bronze
Bronze is associated with healing when near the body, thereby signifying a stable and healthy marriage that has lasted 19 years. The couple together have supported one another and provided sustenance to each other that have helped progress them through the difficult challenges that were encountered along the way.
Gemstone: Aquamarine
Alternative Gemstone: Topaz; Golden Beryl
Color: Bronze
Flower: Bronze Mums*

* It is suggested that there is no flower associated with the 19th wedding anniversary, however, it has been argued that the bronze chrysanthemum may indeed represent this celebration. The specific meaning of the bronze mum is excitement. It is a reminder for the couple to introduce something new into a relationship that has lasted so long.
Popular Modern and Other 19th Anniversary Gift Ideas
• Bronze home wares (eg, bookends, door knocker, vase, mugs/goblets, plates/bowls, candle holder, plant or flower pot)
• Bronze sculpture or figurine
• Bronze wind chimes
• Bronze photo frame
• Aquamarine jewelry (eg, necklace, pendant, ring, earrings, bracelet)
• Topaz or golden beryl jewelry as alternate gemstones associated with the 19th wedding anniversary
• Floral-themed gifts involving the bronze mum (eg, art print, scented products such as candles or perfume, plant)
• Fresh bouquet of bronze chrysanthemums
Below are the next 5 years of gift themes:
20th wedding anniversary gift ideas | 21st wedding anniversary gift ideas | 22nd wedding anniversary gift ideas |
23rd wedding anniversary gift ideas | 24th wedding anniversary gift ideas |