Find the perfect 20th wedding anniversary present for a special someone in our comprehensive list of established themes we have curated below for this hallmark year. Combine items, colors or themes to create a token that will be treasured for a lifetime, revealing the depth of your sentiments, love, and good wishes.
Traditional Gift Theme: China
China symbolizes the beauty and elegance of committed love that has endured 20 years of marriage, and which has evidently been treated with care, as per the need to handle delicate china.
Modern Gift Theme: Platinum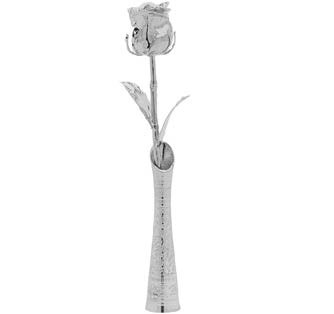 Platinum symbolizes endurance, determination and overcoming challenges. It is also classically strong, timeless and highly valuable due to its rarity and exquisiteness. These descriptive terms capture the true essence of a marriage that has lasted 20 years, with promise of many more to come.
Gemstone: Emerald
Alternative Gemstone: Platinum
Color: Emerald-Green; White
Flower: Day Lily; Aster; (Substitute: Platinum, Green or White Rose)

In China, the day lily takes on a cheerful meaning of 'no worries', which represents the stability of a long-term marriage that has successfully survived many challenging times, bringing it to a point where there is now time for a more carefree sentiment and outlook on the future. In the Victorian interpretation of this flower, it signifies coquetry, flirting and playful behavior towards one another. This description further fits in with the notion of needless worry, and the opportunity to sit back, relax, enjoy and be carefree. Perhaps the children have grown up, and have possibly left home, and so the parents are less 'burdened', and have more time together.
The aster flower holds the meaning of unexpected surprise. This wildflower has also long been deemed the 'Talisman of Love,' a captivating flower that represents daintiness, elegance, love, patience and contentment.
Popular Traditional Gift Ideas
• China home wares (eg, vase, mugs, plates, bowls, jug/pitcher, candle holders, plant or flower pot)
• China figurines or sculptures
Popular Modern and Other 20th Anniversary Gift Ideas
• Platinum jewelry (eg, necklace, bracelet, ring, earrings)
• Emerald jewelry
• Platinum-Dipped Eternity Rose (to represent the modern theme of platinum associated with the 20th wedding anniversary)
• Light-Green Glazed Eternity Rose or Dark-Green Glazed Eternity Rose (to represent the color green associated with the 20th wedding anniversary)
• Pearl-White Glazed Eternity Rose (to represent the color white associated with the 20th wedding anniversary)
• Floral-themed gifts involving the day lily or aster (eg, art print, scented products such as candles or perfume, plant)
• Fresh bouquet of day lilies or aster flowers
Here is the video of our Platinum-Dipped Eternity Rose

Below are the upcoming anniversary gift themes:
21st wedding anniversary gift ideas | 22nd wedding anniversary gift ideas | 23rd wedding anniversary gift ideas |
24th wedding anniversary gift ideas | 25th wedding anniversary gift ideas |