Below we provide a complete list of established gift themes that relate to the 1st wedding anniversary in the US. It is important to note that there are no hard and fast rules when it comes to selecting a 1st anniversary gift for your loved one. You can mix and match themes, colors and items into any style of gift that you feel will suit the recipient, and convey your heartfelt sentiment.
Traditional Gift Theme: Paper
There are two characteristics of paper that have symbolic meaning for the 1st wedding anniversary:
i) Paper represents a 'blank canvas' which, in the first year of marriage, signifies that much of the future for the couple is yet to unfold and be written; and,
ii) Paper can easily rip, which is a reminder to a couple on their 1st anniversary that they have yet to face a number of challenges that could easily strain the relationship. It therefore reinforces the notions that faith and trust in one another, as well as good communication, are vital in the relationship.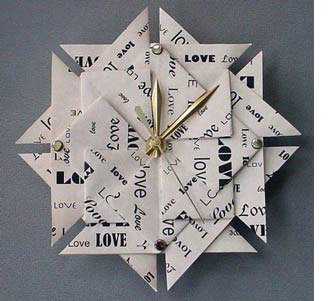 Modern Gift Theme: Clocks
Clocks signify the concept of time as eternity in the realm of love. A famous quote by Henry Van Dyke stated "For those who love, time is eternity."
Gemstone: Gold Jewelry (no associated stone)
Alternative Gemstone: Peridot; Pearl
Color: Gold; Yellow

Flower: Carnation; Pansy; Orange Blossom, (Substitute: Yellow or Gold Rose)

Carnations are representative of young and passionate love.
The name 'pansy' is derived from the French word pensée, meaning remembrance or thought, signifying the consideration and thoughtfulness for one another in a marriage.
An orange blossom represents purity, eternal love, innocence, fertility and fruitfulness.
Popular Traditional Gift Ideas
• Calendar
• Tickets (eg, for the movies, theatre, musical event, sports game etc.)
• Stationery
• Road map showing the route to a special place the couple can go together
• Magazine subscription
• Paperweight
• Postcards
• Art print
• Jigsaw puzzle
• Sheet music (eg, of a favorite love song)
• Book
Popular Modern and Other Gift Ideas
• Wrist watch
• Egg timer
• Wall clock
• Antique clock
• Alarm clock
• Outdoor sundial
• Kitchen timer
• Gold jewelry (eg, bracelet, necklace, earrings, ring)
• Peridot or pearl jewelry as alternate gemstones associated with the 1st wedding anniversary
• Gold-Dipped Eternity Rose (to represent the themes of gold jewelry and the color gold associated with the first wedding anniversary)
• Yellow Glazed Eternity Rose (to represent the color yellow associated with the 1st wedding anniversary)
• Floral-themed gifts involving the carnation, pansy or orange blossom (eg, art print, scented products such as candles or perfume, plant)
• Fresh bouquet of carnations, pansies or orange blossoms
Here is a video of our Yellow Glazed Eternity Rose
Below are the next 5 anniversary year themes so you can coordinate your gift ideas :
2nd wedding anniversary gift ideas | 3rd wedding anniversary gift ideas | 4th wedding anniversary gift ideas |
5th wedding anniversary gift ideas | 6th wedding anniversary gift ideas |