Here, we have provided a list of gift themes relating to 2nd wedding anniversaries in America. You should note that there are no rules for choosing the perfect 2nd anniversary gift for a special someone. There are many themes, colors and items you can choose from to create the perfect gift to match the recipient, and to show them how you much you care.
Traditional Gift Theme: Cotton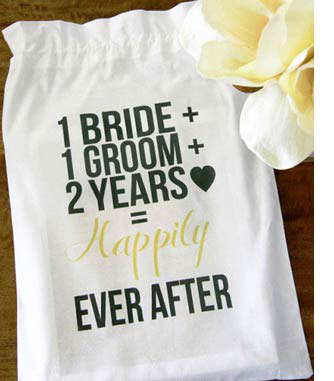 Cotton is durable and versatile, which are key qualities in a happy and successful marriage. It is a message to the couple on their 2nd wedding anniversary that the marriage needs to be able to adapt to changes to remain strong; and like its interwoven fibers, cotton in the second year of marriage represents the couple growing closer together as their lives become increasingly intertwined.
Modern Gift Theme: China
China is often described as beautiful and elegant, in the same way that love in a marriage is viewed. However, china is also fragile and can easily break if mishandled. The modern theme of china on the 2nd wedding anniversary therefore emphasizes the need for ongoing care of one another in the relationship.
Gemstone: Garnet
Alternative Gemstone: Rose Quartz
Color: Red
Flower: Cosmos; Lily of the Valley; (Substitute: Red Rose)

In the Greek language, the cosmos flower denotes orderly, beautiful and ornamental. It is a flower of love. Its appearance also exudes the attributes of peacefulness, modesty and wholeness.
The lily of the valley signifies purity, humility, return of happiness, sweetness, trustworthiness and purity of heart. In essence, it captures the concept "you have completed my life".
Popular Traditional Gift Ideas
• Cotton gloves
• Cotton clothing (eg, T-shirts)
• Canvas shopping bag or book bag
• Cotton table cloth, napkins or place mats
• Cotton socks
• Cotton plush towels
• Cotton handkerchiefs or bandannas
• Cotton 'His and Hers' bathrobes
• Egyptian cotton sheets and pillowcases
Popular Modern and Other Gift Ideas
• China home wares (eg, vase, mugs, plates, bowls, jug/pitcher, candle holders, plant or flower pot)
• China figurines or sculptures
• Garnet jewelry (eg, bracelet, necklace, earrings, ring)
• Rose quartz jewelry as an alternate gemstone associated with the second wedding anniversary
• Red Glazed Eternity Rose or Dark-Red Glazed Eternity Rose (to represent the color red associated with the 2nd wedding anniversary)
• Floral-themed gifts involving the cosmos or lily of the valley (eg, art print, scented products such as candles or perfume, plant)
• Fresh bouquet of cosmos or lily of the valley flowers
Have a look at the video for our Red Glazed Eternity Rose

Below are the next 5 anniversary year themes so you can think ahead and plan your gifting:
3rd wedding anniversary gift ideas | 4th wedding anniversary gift ideas | 5th wedding anniversary gift ideas |
6th wedding anniversary gift ideas | 7th wedding anniversary gift ideas