The 40th wedding anniversary is enshrouded in tradition, and here we provide our list of the most common and established gift themes in the USA for this milestone year of celebration. You can be inspired to create a special present that your loved recipient will really adore by focusing on the color and/or themes, into a bespoke anniversary gift that will remain pride of place in their heart.
Modern Gift Theme: Ruby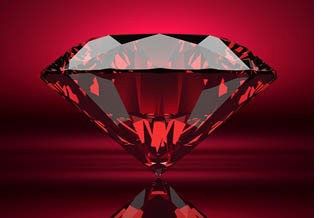 The ruby has historically been used as a gemstone to enhance passion, devotion and romantic love. As such, rubies are believed to possess an inner eternal flame which symbolizes that the passion in a marriage is still very much alive after 40 years together.
Gemstone: Ruby
Color: Red
Flower: Nasturtium; Gladiola; (Substitute: Red Rose)
The nasturtium, in the traditional sense, symbolizes patriotism, conquest, and victory in battle. In translating the essence of this symbolism to marriage, this flower signifies loyalty and devotion between two people.
The gladiola is a symbol of sincerity, generosity, remembrance, splendid beauty and strength of character. It represents admiration and infatuation, and hence, the statement 'you pierce my heart'.
Popular Modern and Other 40th Anniversary Gift Ideas
• Ruby jewelry (eg, necklace, pendant, ring, bracelet)
• Red Glazed Eternity Rose or Dark-Red Glazed Eternity Rose (to represent the ruby gemstone as well as the color red associated with the 40th wedding anniversary)
• Floral-themed gifts involving the nasturtium or gladiola (eg, art print, scented products such as candles or perfume, plant)
• Fresh bouquet of nasturtiums or gladiolas
Take a moment to have a look at the video of our Red Glazed Eternity Rose

Here are the next round of milestone anniversary themes coming up:
45th wedding anniversary gift ideas | 50th wedding anniversary gift ideas | The golden wedding anniversary |
55th wedding anniversary gift ideas | 60th wedding anniversary gift ideas |