Give a truly unique gift to the honored recipient to mark the occasion of the 55th wedding anniversary. You can mix up themes, colors and items from our list of common American traditional 55th anniversary themes, thereby giving a present designed to match their tastes.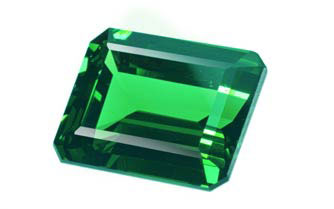 Modern Gift Theme: Emerald
There are two primary symbolic meanings associated with the Emerald:
i) Emeralds traditionally symbolize true love and are believed to change color when the loved one is being unfaithful. In a marriage, genuine emeralds therefore symbolize devotion, loyalty, friendship and adoration
ii) Due to their green color, emeralds are associated with spring and rebirth, and are believed to enhance creativity, as well as open the door to new possibilities.
Gemstone: Alexandrite
Alternative Gemstone: Emerald
Color: Emerald-Green
Flower: Calla Lily; (Substitute: Green Rose)
The calla lily symbolizes magnificent beauty. Furthermore, in Christian ideology, this flower has come to be associated with faith, holiness, chastity and purity. Conversely, the flower's large phallic stalk (spadix) symbolized sexuality and lust among the Romans. These combined concepts represent the qualities of faith and fidelity in a wholesome marriage that also contains elements of romantic love and desire.
Popular Modern and Other Gift Ideas
• Emerald jewelry (eg, necklace, pendant, ring, bracelet)
• Alexandrite jewelry
• Light-Green Glazed Eternity Rose or Dark-Green Glazed Eternity Rose (to represent the emerald-green theme of the 55th wedding anniversary)
• Calla lily-themed gifts (eg, art print, scented products such as candles or perfume, plant)
• Fresh bouquet of calla lilies
Check out the video of our Dark-Green Glazed Eternity Rose

Below is the next big anniversary event, and additional information on the wedding anniversary tradition:
60th wedding anniversary gift ideas | The anniversary tradition | Handmade anniversary gift ideas |