Choose from our range of traditional 35th wedding anniversary themes outlined below, and select a gift that reveals how much you care for your loved recipient. Or, you can mix and match between themes, colors and items so that your present is ideally tailored to the recipient and their tastes.
Traditional Gift Theme: Coral (US & UK); Jade (US)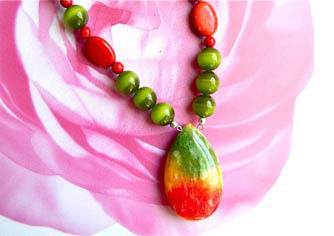 The color Coral represents passion. In Eastern cultures, precious coral symbolizes longevity and success in life. Jade is the stone for luck. It also represents prosperity, love, fidelity, longevity, wisdom, peace, stability, compassion and knowledge.
Modern Gift Theme: Jade
Gemstone: Emerald
Alternative Gemstone: Coral; Jade
Color: Coral
Flower: None
Popular Traditional Gift Ideas
• Coral-themed gift (eg, seafood dinner, visit to a coral reef; aquarium with corals)
• Coral home wares (eg, vase, dish, sculpture, figurine)
Popular Modern and Other Gift Ideas
• Coral, jade or emerald jewelry (eg, necklace, bracelet, ring, earrings)
• Jade home wares (eg, vase, dish, sculpture, figurine)
Here are some of the other important milestone anniversary themes headed your way:
40th wedding anniversary gift ideas | 45th wedding anniversary gift ideas | 50th wedding anniversary gift ideas |
55th wedding anniversary gift ideas | 60th wedding anniversary gift ideas |