If you, or someone close to you is celebrating the 15th wedding anniversary, you may want to check out our list of traditional gift themes associated with this year. With no set rules, you have free reign to select from different items, colors or themes, and combine them into a unique gift that will be entirely perfect for the recipient.
Traditional Gift Theme: Crystal
Crystal is beautiful and dazzling through its multifaceted structure, signifying the true beauty of genuine and inspiring love between two dynamic people who reflect their core values in one another. Crystal is also fragile and in this respect, this traditional theme for the 15th anniversary is seen to represent the fact that the marriage which has lasted this long has been handled with care. The couple should not take one another for granted.
Modern Gift Theme: Watches
A watch signifies time, and in the institution or marriage and love, this represents love for an eternity; in other words, a love that is timeless.
Gemstone: Ruby
Alternative Gemstone: Rhodolite; Blue Sapphire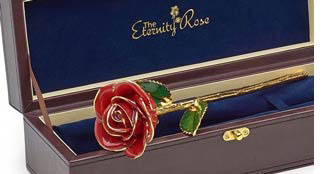 Color: Red
Flower: Rose
Given that the 15th wedding anniversary is marked by the color red, a red rose is the ideal color of all roses to commemorate this celebration. Throughout history, the red rose has been the classic symbol of true passionate and romantic love that runs very deeply. In essence, it signifies the perfect love.
Popular Traditional Gift Ideas
• Crystal home wares (eg, vase, bell, wine goblets, bowl/dish, jug/pitcher, candle holder)
• Crystal figurines
• Crystal paperweight
Popular Modern and Other Gift Ideas
• Watch
• Ruby jewelry (eg, necklace, pendant, ring, bracelet)
• Rhodolite or blue sapphire jewelry as alternate gemstones associated with the 15th wedding anniversary)
• ** A highly suitable gift for this anniversary is a Red Glazed Eternity Rose or Dark-Red Glazed Eternity Rose (to represent the color red as well as the rose flower associated with the 15th wedding anniversary)
• Rose-themed gifts (eg, art print, scented products such as candles or perfume, plant)
• Fresh bouquet / box of long-stemmed red roses
Check out the video of our Red Glazed Eternity Rose

Below are the next 5 anniversary gift idea themes:
16th wedding anniversary gift ideas | 17th wedding anniversary gift ideas | 18th wedding anniversary gift ideas |
19th wedding anniversary gift ideas | 20th wedding anniversary gift ideas |