There are many established themes associated with 16th wedding anniversaries in the USA and here, we provide our comprehensive list. You can choose from any or all of the themes, items or colors, and put them together to create an exciting present that will show your loved one how much they mean to you.
Modern Gift Theme: Silverware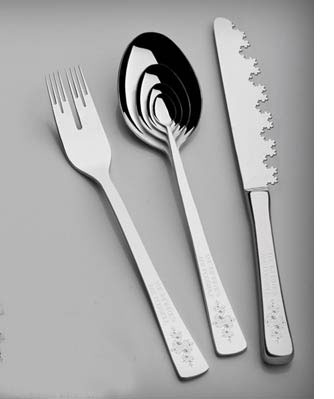 Silver represents awareness, clarity and vision due to its bright and clear appearance. It also symbolizes purity, focus, strength and persistence. A silverware gift represents the union and connectedness of two people as they continue to live their lives together, for example, in sharing a meal at the table (with the use of silverware) with one another and their families.
Gemstone: Peridot
Alternative Gemstone: Aquamarine; Golden Topaz
Color: Silver
Flower: Statice; (Substitute: Silver Rose)

The statice flower exemplifies enduring beauty, remembrance, sympathy and success. On the 16th wedding anniversary, it reminds a couple that in order to sustain a successful and beautiful marriage, they need to exercise a combination of qualities such as thoughtfulness, consideration and compassion/empathy.
Popular Modern and Other Gift Ideas
• Silverware (eg, plates, bowls, goblets, cutlery, candle holder, wine bucket, tea set)
• Silver photo frame
• Silver jewelry (eg, necklace, bracelet, ring, earrings)
• Peridot jewelry
• Aquamarine or golden topaz jewelry as alternate gemstones associated with the 16th wedding anniversary
• Silver-Dipped Eternity Rose (to represent the silver themes associated with the 16th wedding anniversary)
• Floral-themed gifts involving the statice (eg, art print, scented products such as candles, perfume, plant)
• Fresh bouquet of statice flowers
Here is the video of our Silver-Dipped Eternity Rose

Below are the next 5 years of themes:
17th wedding anniversary gift ideas | 18th wedding anniversary gift ideas | 19th wedding anniversary gift ideas |
20th wedding anniversary gift ideas | 21st wedding anniversary gift ideas |