There are several established themes associated with the 30th wedding anniversary in America, and here we reveal our comprehensive list. You can either stick to convention or mix up the themes, colors and items to create an individual present to suit the recipient.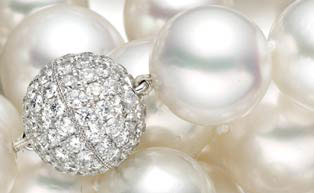 Traditional Gift Theme: Pearl
Pearls symbolize purity, innocence, spiritual transformation, honesty, charity, integrity and wisdom.
Modern Gift Theme: Diamond
The diamond symbolizes strength, affection, and most importantly in the realm of marriage, eternity, fire and everlasting love. The metaphysical properties of the diamond are clarity, wisdom, abundance and balance. A marriage that has made it to 30 years is as beautiful and durable as a diamond.
Gemstone: Pearl
Alternative Gemstone: Diamond; Jade
Color: Green
Flower: Lily; Sweet Pea; (Substitute: Green Rose)
The lily represents devotion, beauty, honor, majesty, purity of heart, pride, wealth and innocence. Whilst the couple who have reached their 30th wedding anniversary have aged and grown together, the commitment to one another has not been altered.
The sweet pea signifies blissful and lasting pleasure, as well as the statements 'thank you for a lovely time,' and 'I think of you'.
Popular Traditional Gift Ideas
• Pearl jewelry (eg, necklace, bracelet, ring, earrings)
Popular Modern and Other Gift Ideas
• Diamond jewelry
• Jade jewelry as an alternate gemstone associated with the 30th wedding anniversary
• Light-Green Glazed Eternity Rose or Dark-Green Glazed Eternity Rose (to represent the color green associated with the 30th wedding anniversary)
• Floral-themed gifts involving the lily or sweet pea (eg, art print, scented products such as candles or perfume, plant)
• Fresh bouquet of lilies or sweet peas
Here is a video of our Light-Green Glazed Eternity Rose

Below we list the next group of significant wedding anniversaries:
35th wedding anniversary gift ideas | 40th wedding anniversary gift ideas | 45th wedding anniversary gift ideas |
50th wedding anniversary gift ideas | 55th wedding anniversary gift ideas |