We all appreciate a special wedding anniversary gift, and for those with their 28th anniversary celebration approaching, we have provided a list of authentic ideas below. You can tailor your gift to the recipient to show how much you love them, based on any one or combination of the themes, colors and items detailed below. You needn't stick to any specific concept. Simply be guided by your own instincts as to what would suit them best, and you will have created a truly individual gift.
Modern Gift Theme: Orchids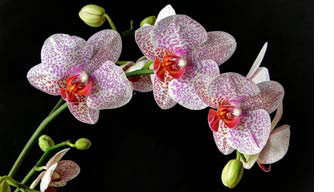 Orchids represent love, luxury, strength and beauty. In ancient Greece, the orchid was associated with virility. In Chinese culture, the orchid symbolizes many children, as well as elegance, nobility, perfection and friendship.
Gemstone*: Amethyst; Orchid Tourmaline
* The American Gem Trade Association (AGTA) does not list any gemstone for the 28th wedding anniversary. The gemstones listed for this anniversary were derived from other sources, and so should therefore be considered as alternative options as a suitable gift theme.
Color: Lavender
Flower: Orchid; (Substitute: Rose)
Popular Modern and Other Gift Ideas
• Fresh bouquet of orchids
• Orchid stationery
• Orchid-scented or shaped candles
• Orchid paperweight
• Book about orchids
• Orchid art print
• Orchid designed jewelry (eg, necklace, bracelet, ring, earrings)
• Orchid tourmaline or amethyst jewelry as alternative gemstone options associated with the 28th wedding anniversary

Here are some of the next milestone anniversary years:
29th wedding anniversary gift ideas | 30th wedding anniversary gift ideas | 35th wedding anniversary gift ideas |
40th wedding anniversary gift ideas | 45th wedding anniversary gift ideas |