A Platinum Occasion – The 70th Wedding Anniversary
Posted on

May 6, 2019 11:41:37 PM EDT

in Relationships by

Daniel Thomas
Whenever a couple celebrates a milestone anniversary, their friends and family relish celebrating with them. However, reaching 70 years of wedded unity is something which certainly deserves an especially fitting tribute!
Ainsworth Humphrey first met his wife, Lorna, over 70 years ago during the 1940s. When the pair first fell in love, they were living in a world which was very different from the one we live in today.
However, over the following seven decades, they found that their love flourished and grew. And today, after 7 decades of matrimony, the pair's relationship is just as strong as back in those early days – something which we rarely see in today's society.
The couple remain happy together, and even though they are both in their 90s, they look fantastic and enjoy an independent lifestyle. They are both surrounded with family and loved ones who couldn't wait to celebrate this momentous occasion with them.
Commemorating the Special Day
Finding the right gift to commemorate milestone anniversaries can be a real challenge, yet for Lorna and Ainsworth's loved ones, there was only one perfect gift that they could think of which would make the most fitting memento.
There are very few couples who celebrate 7 decades of marriage, yet for those who are lucky enough to reach this happy milestone, a platinum gift is the traditional choice.
What gift would be a better choice to commemorate this significant day than a stunning Platinum-Dipped Eternity Rose – an enduring reminder that perfectly represents the seven happy decades which the couple have spent together?
Seventy Joyful Years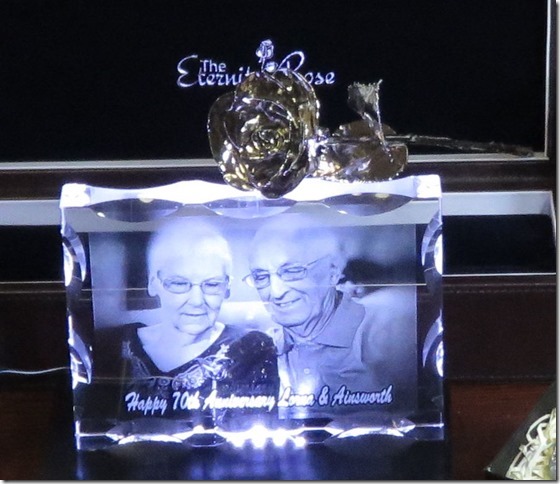 Most people are aware of the key symbols which represent many milestone years. For example, many know that gold is linked to 50 years of marriage and silver with 25, however we very rarely come across couples celebrating a seventy year-long marriage.
Platinum is this anniversary year's traditional symbol thanks to its precious, strong nature.
Platinum is a metal which doesn't tarnish, and this makes it a perfect way of capturing the beautiful strength of such a long-lasting union – something which truly represents seven decades of the couple's marital journey.
A Platinum-Dipped Eternity Rose is the perfect way to express to couples celebrating this momentous event just how much they're appreciated and loved.
Created during a three-month-long process, each rose is produced from a genuine natural flower that has been specially selected at its prime stage of bloom. Each one is then showcased in its own display case, making it an ideal memento of a most special event.
Today, Ainsworth and Lorna are proudly displaying their gift in their home which they share, and The Eternity Rose team is delighted to have been a part of this milestone anniversary. Please join us in wishing the couple many more happy years together.